Shaun White wins the Popcorn Wallride
Sun 20 April 08
With some number fixing that my accountant be proud of, Mr White is now the TTR tour leader, but the champ remains Kevin Pearce after the 4*TTR event is Saas-fee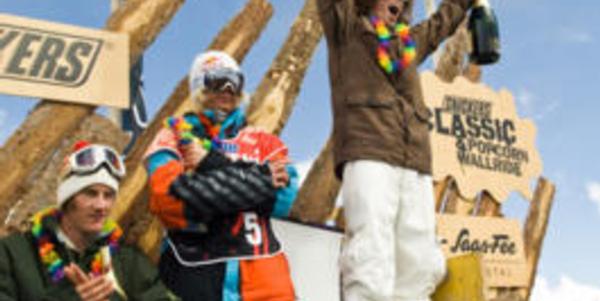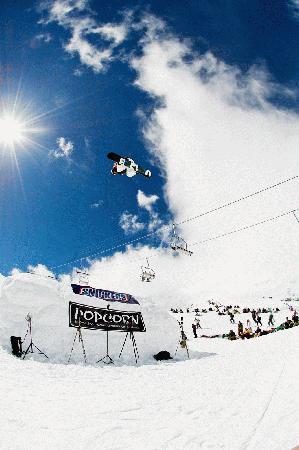 The last event of the Swatch TTR World Snowboard Tour couldnt have gone more smoothly. The sun was cooking, the music was blasting and riders were going full out at the 4-Star Snickers Classic & Popcorn Wallride in Saas-Fee, Switzerland. In his second European appearance this season, Shaun White pulled out all the stops, bagging his 6thresult, 700 TTR Ranking Points, and $10 000 USD. Shauns win improved his TTR rank to Number 1. Finnish rider Juuso Laivisto placed 2ndclaiming $6000 USD as Saas-Fee local Fredi Kalbermatten rounded out the Top 3, taking home $3000.
Although Shaun White has moved into the Swatch TTR World No. 1 spot, fellow American and Burton team rider Kevin Pearce remains the Tour Champion. Pearce had a hugely successful season and with the best six results of every competitor under his belt after the Burton US Open, Kevin was crowned the Swatch TTR Tour Champion and awarded $50 000. However, due to incredible performances in every contest he entered, and a 25% point bonus for both his SS and HP US Open wins, Shaun White was able to move into TTR No. 1 by earning his 6thTTR result in Saas-Fee and for this Shaun was also awarded $50 000 USD.
At the top of the glacier in Saas-Fee however, all attention was focused on the stellar riding put forth by every rider on the Slopestyle course. The set up included a small gap to table feature up top, a perfectly sculpted kicker in the middle and a step up kicker at the bottom. Saturdays finals had the top riders from Fridays qualifications duke it out in a 2.5 hour Jam format with judges scoring riders in their best overall tricks.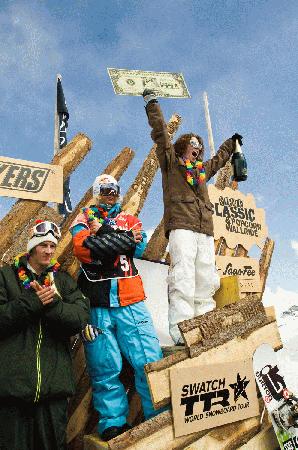 Under bright blue skies, Shaun White absolutely killed it. His best tricks that earned him his first place finish included a FS 180 to an insane Inverted Cab 9 up top, a BS 9, and a massive Cab 1080. Laivisto earned himself second place with a Halfcab to BS 7, a sick Double Backflip, a FS 900 and a switch BS 7. To the cheers of a stoked out crowd, Swiss legend Fredi K took third place with a Halfcab to FS 3 melon, a Cab 9, BS 9 and switch BS 7 loaded with style.
The Swatch TTR 4-Star Snickers Classic & Popcorn Wallride wraps up an incredibly successful 07/08 season for the TTR World Snowboard Tour. To catch up on all the shizzle and bizzle during the past 10 months of off-the-wall competition, visit www.ttrworldtour.com for news, rankings, blogs and in your face videos.
Top Ten Results for 4-Star Snickers Classic & Popcorn Wallride
1. Shaun White USA
2. Juuso Laivisto FIN
3. Fredi Kalbermatten SUI
4. Seppe Smits BEL
5. Alessandro Boyens GER
6. Tonton Holland FRA
7. Gian-Luca Cavigelli SUI
8. Victor De Le Rue FRA
9. Rafael Coray SUI
10. Fred Evequoz SUI

Next Story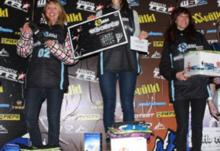 Thu 24 April 08, Ischgl, Austria
despite the flat light and challenging slopestyle course the Junior Team, which included: Aimee Fuller, Lewis Courtier-Jones, Henry Shackelton, Ollie Jackson, Sam Turnbull, and Dean Horsefield, stepped it up and achieved some great results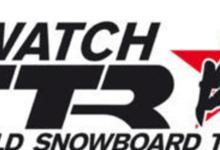 Wed 07 May 08
The Swatch TTR Event applications are over and we are looking forward a new season of amazing snowboarding performances with an incredible prize money of over $2.5million USD up for grabs at events worldwide over a 10-months period.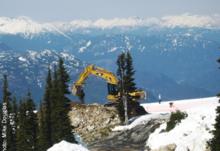 Wed 07 May 08, Whistler/Blackcomb, Canada
After a snowy six month hiatus, construction on Whistler Blackcomb's Peak 2 Peak Gondola has commenced, with completion of the record breaking lift slated for this December, just before the busy winter season swings into high gear
Tue 03 June 08, Beijing Qiaobo Ice & Sno World, China
Indoor facilities are becoming more accessible in non-winter friendly environments around the world. The park, located just outside the city center, will boast a kicker line, wallride as well as rail and box combinations.
Thu 05 June 08, Cardrona, New Zealand
New Quad-chairlift, some monster kickers in the park and more snowmaking are the highlights for the new season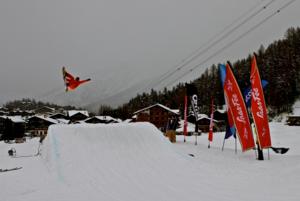 "Sass-Fee is a great summer snowboard destination, but because of it's extremely high altitude it can be sketchy in winter. Local services are great with a really good vibe in the town."
17-20 April 08
The 4*TTR European season closer event is back at Saas-fee and presented by Freddie Kalbermatten and Marco Schwab
Mens Big-Air Leaderboard
1. Parrot, Maxence (766.67)
2. Hansen, Kim Rune (705.01)
3. Tonteri, Roope (655.50)
4. Kotsenburg, Sage (640.91)
5. Truchon, Antoine (602.84)
Mens Halfpipe Leaderboard
1. Gold, Taylor (882.80)
2. Bretz, Greg (858.51)
3. Hiraoka, Taku (847.16)
4. Hirano, Ayumu (833.53)
5. Vito, Louie (713.54)
Mens Slopestyle Leaderboard
1. McMorris, Mark (968.03)
2. Sandbech, Stale (916.33)
3. Parrot, Maxence (905.33)
4. Thorgren, Sven (802.90)
5. Kotsenburg, Sage (785.45)
Womens Halfpipe Leaderboard
1. Clark, Kelly (1000.00)
2. Kim, Chloe (867.90)
3. Bleiler, Gretchen (851.23)
4. Farrington, Kaitlyn (796.03)
5. Gold, Arielle (773.27)
Womens Slopestyle Leaderboard
1. Anderson, Jamie (966.67)
2. Rukajärvi, Enni (883.43)
3. Norendal, Silje (826.98)
4. Derungs, Isabel (816.28)
5. Pancochova, Sarka (805.10)
Advertisement