New TTR season kicks off down under
Wed 07 May 08
The Swatch TTR Event applications are over and we are looking forward a new season of amazing snowboarding performances with an incredible prize money of over $2.5million USD up for grabs at events worldwide over a 10-months period.

The Swatch TTR Event applications are over and we are looking forward a new season of amazing snowboarding performances – with an incredible prize money of over $2.500.000 USD up for grabs at events worldwide over a 10-months period.
The Swatch TTR World Snowboard Tour kicks off downunder where it has been growing steadily since the start of the Tour with some hugely successful events and unexpected record-breaking moments. Who knew that Australia even had mountains!
With the season's first snow already on the ground it is setting up to be the best southern hemisphere tour to date. 2008 will see the introduction of two new events to the already solid southern hemisphere event line up. The Boost Mobile Sno Sho at Perisher Blue, Australia and the Billabong Snow Stock in Snowpark, New Zealand, have applied to be a part of the Swatch TTR Tour and, if accepted, will join the Burton New Zealand Open (5Star in 07/08), Oakley Stylewars (3Star in 07/08) and the Burton Australian Open (4Star in 07/08) bringing with it more prize money and more event possibilities for international riders travelling downunder.
The Southern Hemisphere Tour starts in New Zealand with the BNZO. Held on Snowboarding's holy ground, Snowpark, The Burton New Zealand Open has a long history and the park builders from Snowpark never disappoint. With one of the world's best halfpipes, a perfect slopestyle set up and a massive quarter pipe the BNZO is always a must for transition riders. As the first stop on the Burton Global Open Series (BGOS) the NZO is a must for all riders wanting to start the northern hemisphere tour with practice and TTR points under their belts.
Following the NZO, the Tour stays in Snowpark, New Zealand to prepare for the Billabong Snowstock. This new event on the Tour features a Straight Jump and Quarterpipe competition and offers a prize purse of $ 10 000 USD. From New Zealand the Tour crosses the Tasman Ocean to Falls Creek, Victoria Australia for the Oakley Stylewars. This event launched the newly designed TTR World Tour in 2005 and has a long history for pushing the boundaries of slopestyle and rider endurance. The only event on the Swatch TTR World Tour the Oakley Stylewars is an invitational 3-day Slopestyle jam session with a music festival running within it. The riders battle it out in a park set up that brings fear to the biggest names in snowboarding and at night the event rolls on with beats and beers till the early hours only to get up early and do it all again. After 3 Slopestyle competition days, 1 night rail event, 7 judged sessions and 4 nights of music the end result goes to the top scoring rider: the Stylewars Grand Master.
The evening after Stylewars grinds to a halt the Boost Sno Sho takes off with a one night, under lights, big air and rail showdown. The Boost Sno Sho is held at Perisher Blue in NSW and boasts the World's Longest Rail event. Not to be laughed at, the current Guinness Book Of Records longest rail record holder is Ryan Thorley with a distance of 54.15m on the 80m rail set in qualifying at the event in 2007.
The Southern Hemisphere Tour finishes with the Burton Australian Open also held at Perisher Blue, NSW. The event has a long-standing history that never disappoints. Run over 5 days the BAO consists of Slopestyle and Halfpipe categories and fits in with the Burton Global Open Series history and style. Consistently boasting the biggest names in snowboarding attending the event is a great way to complete the southern tour.
Get ready for an exciting start into the new Swatch TTR Tour season which again will be filled with the biggest names of snowboarding. On the list of already confirmed riders are Torstein Horgmo (NOR), Jonas Karlsson (SWE), Sani Alibabic (AUT), Robbie Walker (AUS), Jacob Koia (NZE), Chas Guldemond (USA), Quentin Robbins (NZE) and many more, all trying to get a good head start for the Northern Hemisphere season. Stay tuned on http://www.ttrworldtour.com for news, videos and blogs from Oceania.
TOUR DATES
New Zealand
Burton New Zealand Open
Snowpark New Zealand
July 29 - August 2
HP, SS, QP
www.opensnowboarding.com

Billabong Snowstock
SnowPark New Zealand
August 8 – August 18
SS, QP
Australia
Oakley Stylewars
Falls Creek, Victoria
24 – 28 August
SS, Night rail
www.stylewars.com.au

Boost Sno Sho
Perisher Blue, NSW
28 – 29 August
(All Stylewars riders get wildcards straight to the Boost Sno Sho finals)
SS, Rail Jam, BA

Burton Australian Open
Perisher Blue, NSW, Australia
2 – 6 September
HP, SS
www.opensnowboarding.com

Next Story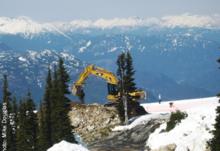 Wed 07 May 08, Whistler/Blackcomb, Canada
After a snowy six month hiatus, construction on Whistler Blackcomb's Peak 2 Peak Gondola has commenced, with completion of the record breaking lift slated for this December, just before the busy winter season swings into high gear
Tue 03 June 08, Beijing Qiaobo Ice & Sno World, China
Indoor facilities are becoming more accessible in non-winter friendly environments around the world. The park, located just outside the city center, will boast a kicker line, wallride as well as rail and box combinations.
Thu 05 June 08, Cardrona, New Zealand
New Quad-chairlift, some monster kickers in the park and more snowmaking are the highlights for the new season
Thu 05 June 08, Coronet Peak , New Zealand
The main base gets a total rebuild and some major snowmaking improvements are the biggies in NZ$20m of investment this season
Thu 05 June 08, The Remarkables, New Zealand
Same idea as the one in Avoriaz, the Stash is a 1km run with tons of hits bridging the gap between freestyle and freeride

2-6 September 08
The event has a long-standing history that never disappoints. Run over 5 days the BAO consists of Slopestyle and Halfpipe categories and fits in with the Burton Global Open Series history and style
Mens Big-Air Leaderboard
1. Parrot, Maxence (766.67)
2. Hansen, Kim Rune (705.01)
3. Tonteri, Roope (655.50)
4. Kotsenburg, Sage (640.91)
5. Truchon, Antoine (602.84)
Mens Halfpipe Leaderboard
1. Gold, Taylor (882.80)
2. Bretz, Greg (858.51)
3. Hiraoka, Taku (847.16)
4. Hirano, Ayumu (833.53)
5. Vito, Louie (713.54)
Mens Slopestyle Leaderboard
1. McMorris, Mark (968.03)
2. Sandbech, Stale (916.33)
3. Parrot, Maxence (905.33)
4. Thorgren, Sven (802.90)
5. Kotsenburg, Sage (785.45)
Womens Halfpipe Leaderboard
1. Clark, Kelly (1000.00)
2. Kim, Chloe (867.90)
3. Bleiler, Gretchen (851.23)
4. Farrington, Kaitlyn (796.03)
5. Gold, Arielle (773.27)
Womens Slopestyle Leaderboard
1. Anderson, Jamie (966.67)
2. Rukajärvi, Enni (883.43)
3. Norendal, Silje (826.98)
4. Derungs, Isabel (816.28)
5. Pancochova, Sarka (805.10)
Advertisement