The British Snow Tour made its final stop of the dryslopes series over the weekend, 19th & 20th July at Norfolk Ski Club for the Trespass British Snowboard & Skiercross Championships and Big Air Jam. The locals were out in force and competition was fierce as riders went head-to-head in the four way races, with some spectacular wipe-outs along the way. Over at the Trespass Lesson Academies 200 beginners inspired by the high-speed action took advantage of the FREE lessons up for grabs.
Trespass Snowboardcross Championships
The Trespass Snowboardcross Championships kicked off Saturday's competition with riders, propelled by the intermittent rain, charging through the start gates and on into the head-to-head qualifying rounds, until only the fastest four male and female competitors were remaining. In the women's final Liz Osborne accelerated out of the start gates and over the finish line in first place to take the 2008 Women's Trespass Snowboardcross Title. Second place went to Jo Brown with Becky Hammond taking a respectable third. The adrenaline was pumping in the men's final with all four competitors confident they were going to be victorious. It was a tight race out of the start gates with local rider Jamie Debbage and Ben Knox jostling to take the lead. Jamie edged his way into first place and managed to hold onto the lead to take the 2008 Men's Trespass Snowboardcross Title, leaving Ben Knox and Simon Rivera to take second and third respectively.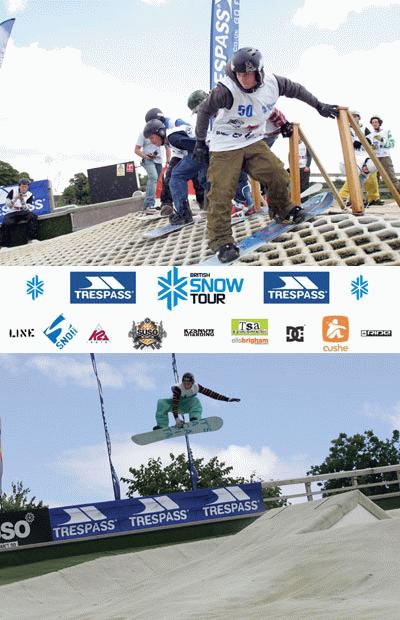 During the afternoon's Big Air Jam Liz Osborne scooped her second win of the day after she stomped a smooth backside 360 and cab 180. Ben Knox, who had been charging the kicker all afternoon threw down a selection of 720's and a 900 to win the men's jam, whilst Ryan Lewis's consistent 540's secured him top spot in the under 16's age category.
Trespass Snowboardcross Championship Results
Men
1st – Jamie Debbage – Norwich
2nd – Ben Knox – Crouch End
3rd – Simon Rivera - Norwich
Women
1st - Liz Osborne – Cambridge
2nd - Jo Brown – Brighton
3rd - Becky Hammond - Sheffield
Trespass Big Air Jam Results
Men's over 16's
1st - Ben Knox – Crouch End
2nd – Chris Barker – Norwich
3rd – Jamie Debbage – Norwich
Men's under 16's
1st – Ryan Lewis – Chatham
2nd - Sam Richardson – Middlesex
3rd – Jake Terry – Chesham
Women
1st - Liz Osborne – Cambridge
2nd – Pamela Wilson – Southampton