Top riders head to Perisher Blue for the Oz Open
Thu 21 August 08
Some of the biggest names in international snowboarding are making their way down under to the Burton Australian Open Snowboarding Championships, which will take place from September 1-5, 2008 at Perisher Blue resort in Australia

Some of the biggest names in international snowboarding are making their way down under to the Burton Australian Open Snowboarding Championships, which will take place from September 1-5, 2008 at Perisher Blue resort in Australia. Kevin Pearce, Jamie Anderson, Hannah Teter, Chas Guldemond, Mikkel Bang, Mason Aguirre, Danny Davis, Torstein Horgmo and Markus Malin are just a few of the top riders who plan to attend the event, which features men's and women's halfpipe and slopestyle competitions.
The Australian Open is the second event of this season's Burton Global Open Series (BGOS), the world's most prestigious series of global competitive snowboarding events playing out in six countries where the top male and female champions claim a title worth USD$100,000. The Australian Open is also a 5Star event on the 08/09 Swatch TTR World Tour, the largest group of independent freestyle snowboard events in the world.
Top riders planning to compete at the Burton Australian Open include Kevin Pearce (USA), the men's 07/08 Swatch TTR World Snowboard Tour Champion. He is joined by Chas Guldemond (USA), the current TTR World No.1 who finished third in slopestyle at the New Zealand Open earlier this month and Mikkel Bang (NOR) who took first in the men's slopestyle competition at the New Zealand Open. Also to compete are Charles Reid (CAN), who placed second in slopestyle at the New Zealand Open and Markus Malin (FIN), who finished second in halfpipe at the New Zealand Open.
The women's field is equally strong with competitors such as Olympic gold medalist Hannah Teter (USA) and women's 07/08 Swatch TTR World Snowboard Tour Champion and back-to-back X-Games slopestyle gold medalist Jamie Anderson (USA). Jamie currently leads both TTR and BGOS women's rankings after her first place halfpipe and slopestyle finishes at the New Zealand Open earlier this month.
Competition gets underway on Tuesday, September 2 with the men's and women's halfpipe qualifiers. On Wednesday, September 3, the action moves to Perisher's slopestyle course for the qualifiers. All eyes will be on the halfpipe on Thursday, September 4 for semi-finals and finals when the world's best will fight it out for the Open title and a share of the AUD$50,000 prize purse. On Friday, September 5 the event wraps up with slopestyle finals.
If you can't make it to Australia, watch the semi-finals and finals live on Go211.com, where webcasts and highlights of the competitions will also be available for on-demand viewing once the event is over. And be sure to check out all the highlights from this month's Burton New Zealand open at Go211.com

Next Story
Thu 28 August 08, Falls Creek, Australia
The riding standard was beyond ridiculous, the course was softening in the hot sun and tricks were getting thrown that have never before been seen on snow down under
Sat 30 August 08, Mammoth Mountain, USA
$750,000 in capital investments including improved grading and expansion of current terrain, new 'Adventure Zones', enhanced snowmaking and two brand-new Piston Bully 400 Park Bully Snowcats
Sat 30 August 08, Alyeska, USA
Chairlift #3 is being replaced with a quad chair and Chairlift #7 gets a mid-way unloading point
Sun 31 August 08, Perisher, Australia
American snowboarder Chas Guldemond out-jumped a 30-strong international field to win the 2008 3Star Boost Mobile Sno Sho presented by Samsung at Perisher Blue last night. The rising American star upstaged his opponents in the fourth annual game show style event staged under lights with a stunning performance
Sun 31 August 08
The LG London Big Air will take place on Saturday 25th October 2008 at Battersea Power Station, on the banks of the River Thames in London, and will be the headline event of a fantastic new winter sports festival, Free Sports On 4 Freeze, which will run from 23rd to 26th October 2008 at Battersea Power Station.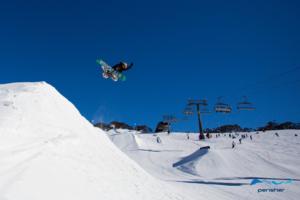 "Good freeriding"

2-6 September 08
The event has a long-standing history that never disappoints. Run over 5 days the BAO consists of Slopestyle and Halfpipe categories and fits in with the Burton Global Open Series history and style
Mens Big-Air Leaderboard
1. Parrot, Maxence (766.67)
2. Hansen, Kim Rune (705.01)
3. Tonteri, Roope (655.50)
4. Kotsenburg, Sage (640.91)
5. Truchon, Antoine (602.84)
Mens Halfpipe Leaderboard
1. Gold, Taylor (882.80)
2. Bretz, Greg (858.51)
3. Hiraoka, Taku (847.16)
4. Hirano, Ayumu (833.53)
5. Vito, Louie (713.54)
Mens Slopestyle Leaderboard
1. McMorris, Mark (968.03)
2. Sandbech, Stale (916.33)
3. Parrot, Maxence (905.33)
4. Thorgren, Sven (802.90)
5. Kotsenburg, Sage (785.45)
Womens Halfpipe Leaderboard
1. Clark, Kelly (1000.00)
2. Kim, Chloe (867.90)
3. Bleiler, Gretchen (851.23)
4. Farrington, Kaitlyn (796.03)
5. Gold, Arielle (773.27)
Womens Slopestyle Leaderboard
1. Anderson, Jamie (966.67)
2. Rukajärvi, Enni (883.43)
3. Norendal, Silje (826.98)
4. Derungs, Isabel (816.28)
5. Pancochova, Sarka (805.10)
Advertisement