Canadian Charles Reid wins the Stylewars
Thu 28 August 08
The riding standard was beyond ridiculous, the course was softening in the hot sun and tricks were getting thrown that have never before been seen on snow down under

The 4Star Oakley Stylewars did not only push snowboarding to another level but also had a major impact on the 08/09 Swatch TTR World Snowboard Tour Rankings with tour veterans, young guns, and south-hemi up and comers all throwing down enormous maneuvers, staking their claims for the title early on. Chas Guldemond (USA), who recently lost the Tour Lead in New Zealand, claimed back the World No. 1 spot, followed closely by the two Kiwi rivals James Hamilton (NZE) in World No. 2 and Stef Zeestraten (NZE) in World No. 3.
The final day of snowboarding at Stylewars was held under perfect Australian skies without a breath of wind. The riding standard was beyond ridiculous, the course was softening in the hot sun and tricks were getting thrown that have never before been seen on snow down under.
Leading the charge today was a man on a mission, last year's grand master Torstein Horgmo (NOR) who was sending massive smooth tricks with rarely a hand out of place. He took out best trick with an insane switch backside 1260 melon deep into the landing of the first jump and climbed 22 positions up the Swatch TTR rankings into World No. 30.

The overall winner of the event was Canadian Charles Reid who dominated for the entire three days of the grueling event that included today. With his victory and 500 Swatch TTR ranking points, Charles moves up 9 ranks to World No. 7. A slew of 1080's, rodeos and a consistent style had him pushing out fellow Canadian Matts Kulisek for the win. In the end, Kulisek finished 3rd behind Horgmo.

Chas Guldemond after knocking himself out heavily in NZ flew into Stylewars at the last minute to compete and take 5th overall which was enough to regain the Tour Lead.
"It's only the second comp of the year so I'm sure Charles Reid will be biting at my heals after this contest… I wanted to come in to Stylewars and check out the contest, slow it all down a bit and enjoy the contest and focus on my style. I'm going to take this as a good base for practice for the start of the season."

In the coveted Bledisnow Cup competition between Australian and New Zealand, the Australian team stood strong today with incredible riding from Ryan Tiene, Robbie Walker, the Allan brothers and 15 year old Jye Kearney who was whiskers away from stomping 90-foot front ten tails. One to look out for from Down Under.

For more information and video coverage from the 4Star Oakley Stylewars check out www.ttrworldtour.com or www.stylewars.com.au and stay tuned as the 5Star Burton Australian Open is up ahead from 1st – 5th September, 2008 in Perisher Blue, Australia
2008 STYLEWARS presented by Oakley
FINAL OVERALL RESULTS
1 Charles Reid (CAN) $7000
2 Torstein Horgmo (NOR)
3 Matts Kulisek (CAN)
4 Shayne Pospisil (USA)
5 Chas Guldemond (USA)
6 Ville Uotila (
7 Ryan Tiene (AUS)
8 Stef Zeestraten (NZD)
9 Will Jackways (NZD)
10 Mitch Allan (AUS)
11 Tore Holvik (NOR)
12 Robbie Walker (AUS)
13 Keiji Okamoto (JPN)
14 Clint Allan (AUS)
15 Jacob Koia (NZD)
16 Roland Morley Brown (NZD
17 Nick Brown (NZD)
18 Masaharu Nakao (JPN)
19 Jye Kearney (AUS)
20 Tyler Chorlton (UK)
21 Mario Kappeli (SUI)
22 Dustin Craven (CAN)
23 Quentin Robbins (NZD)
24 Cohen Davies (AUS)
25 Andy Lloyd (AUS)
26 Kerian McLaughlin (AUS)
27 Jonas Carlson (SWE)
28 Chris Sörman (SWE)
29 Jaakko Ruha (FIN)

Next Story
Sat 30 August 08, Mammoth Mountain, USA
$750,000 in capital investments including improved grading and expansion of current terrain, new 'Adventure Zones', enhanced snowmaking and two brand-new Piston Bully 400 Park Bully Snowcats
Sat 30 August 08, Alyeska, USA
Chairlift #3 is being replaced with a quad chair and Chairlift #7 gets a mid-way unloading point
Sun 31 August 08, Perisher, Australia
American snowboarder Chas Guldemond out-jumped a 30-strong international field to win the 2008 3Star Boost Mobile Sno Sho presented by Samsung at Perisher Blue last night. The rising American star upstaged his opponents in the fourth annual game show style event staged under lights with a stunning performance
Sun 31 August 08
The LG London Big Air will take place on Saturday 25th October 2008 at Battersea Power Station, on the banks of the River Thames in London, and will be the headline event of a fantastic new winter sports festival, Free Sports On 4 Freeze, which will run from 23rd to 26th October 2008 at Battersea Power Station.
Wed 03 September 08, Perisher, Australia
Day 2 saw the qualification for the mens & womens half-pipe, and the grey clouds gathered throughout the day & night creating some dodgy conditions for the slopestyle qualification on day 3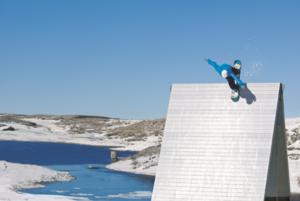 "Good resort overall, but nothing too extreme"

24-28 August 08
This event launched the newly designed TTR World Tour in 2005 and has a long history for pushing the boundaries of slopestyle and rider endurance
Mens Big-Air Leaderboard
1. Parrot, Maxence (766.67)
2. Hansen, Kim Rune (705.01)
3. Tonteri, Roope (655.50)
4. Kotsenburg, Sage (640.91)
5. Truchon, Antoine (602.84)
Mens Halfpipe Leaderboard
1. Gold, Taylor (882.80)
2. Bretz, Greg (858.51)
3. Hiraoka, Taku (847.16)
4. Hirano, Ayumu (833.53)
5. Vito, Louie (713.54)
Mens Slopestyle Leaderboard
1. McMorris, Mark (968.03)
2. Sandbech, Stale (916.33)
3. Parrot, Maxence (905.33)
4. Thorgren, Sven (802.90)
5. Kotsenburg, Sage (785.45)
Womens Halfpipe Leaderboard
1. Clark, Kelly (1000.00)
2. Kim, Chloe (867.90)
3. Bleiler, Gretchen (851.23)
4. Farrington, Kaitlyn (796.03)
5. Gold, Arielle (773.27)
Womens Slopestyle Leaderboard
1. Anderson, Jamie (966.67)
2. Rukajärvi, Enni (883.43)
3. Norendal, Silje (826.98)
4. Derungs, Isabel (816.28)
5. Pancochova, Sarka (805.10)
Advertisement