Winter Park 2008/9 update
Thu 18 September 08
No specific on-mountain improvements this season but a new base and open gondola to get you from the carpark to the base
The Village at Winter Park Resort
Spanning approximately 30,000 square feet, The Village at Winter Park Resort features new restaurants, shops and real estate opportunities, not to mention new parking at the Village parking garage; an ice skating and fishing pond; better access to free parking via the Village Cabriolet; and more base area lodging with the completion of Fraser Crossing and Founders Pointe.
The Village at Winter Park Resort is an exciting addition and marks a milestone achievement in base area development. The Village at Winter Park Resort adds to the almost $40 million in capital improvements invested on-mountain over the past five years. Now, in addition to great skiing/riding on enhanced terrain and via new chairlifts, Winter Park Resort can offer guests an even better village to play in.
The Village Cabriolet
The Village Cabriolet is a $5.6 million investment and connects day guests to the heart of The Village at Winter Park Resort. Spanning a slope length of 1,436 feet and boasting a capacity of 2,800 people per hour, the Village Cabriolet will be ready for opening day November 19, 2008, transporting guests, their equipment, wheelchairs and mountain bikes from the free parking area located adjacent to the Vintage Hotel to The Village at Winter Park
Resort. Winter Park Resort will purchase an additional 200 megawatts of renewable energy credits to operate the Village Cabriolet under the resort's CONNEXION program.
[From press release]
Next Story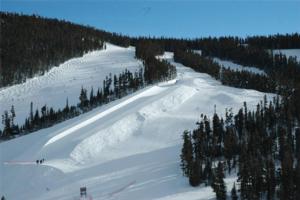 "Tries a bit too hard to try and please everyone, but the terrain parks are excellent."
Advertisement