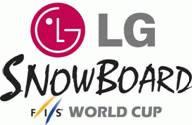 Lesley McKenna (Aviemore) got her Northern Hemisphere leg of the LG FIS Snowboard World Cup off to an excellent start last week (Friday 31st October) when she finished 5th at the World Cup Half Pipe competition in Saas Fee, Switzerland.
Severe weather conditions forced the qualification and finals to be run on the same day and the weather quickly became the dominating factor in both the qualification and final runs. The change in format meant that the athletes only had one run in which to qualify for the finals instead of the usual two. In these difficult weather conditions, Lesley was one of the few riders who had the skills and experience to deal with the weather, qualifying for the finals in 6th place and then improving on this in the finals to finish 5th, only marginally missing out on 4th place. This result means Lesley is ranked joint 8th on the World Cup Standings.
Britain's Kate Foster (Painswick) was also riding in the ladies' competition but was unfortunate to fall during the one run qualification, resulting in her finishing in 29th position.
In the men's event Britain's top male snowboarders, Dan Wakeham (Plymouth), Ben Kilner (Banchory), Dom Harington (Leeds) and Sam Cullum (Bracknell) were also competing, achieving mixed results in the weather conditions.
Dan Wakeham finished 27th, Dom Harington 28th and Ben Kilner was unlucky to miss out on the top 30 finishing 32nd. Sam Cullum was unlucky not to do better, being caught by the wind and finishing 56th. The competition was won by Janne Korpi of Finland in the men's contest and Jiayu Liu from China in the women's.
British World Cup Half Pipe Team coach Leo Addington commented "the athletes had to put it all on the line just to get a result. They had to make the choice whether to go big on their one and only qualification run to make it to the finals but risk falling and finishing last, or whether they to stick a solid run down to try get a result. Even to just get a result every trick had to be landed perfectly".
The British Snowboard Team takes a break from the LG FIS Snowboard World Cup until December where Zoe Gillings will be in action in her second Snowboard Cross World Cup of the season in Arosa, Switzerland between 19th and 20th December.
For regular team news updates subscribe for FREE to the "Across the Board" newsletter at www.snowsportgb.com