For its entry in the Freeride World Tour, the 2009 edition of Nendaz Freeride is announced to be spectacular. The snow has fallen in abundance on the different faces of the mountains in Nendaz and the sun will surely be there
Accomodation
20CHF (£12) is all it will cost to stay at "La Rosablanche" in Siviez, it'll probably be in a dorm room but a bargain to stay and ride the 4-valleys.
Visit their website for more details and how to book
Location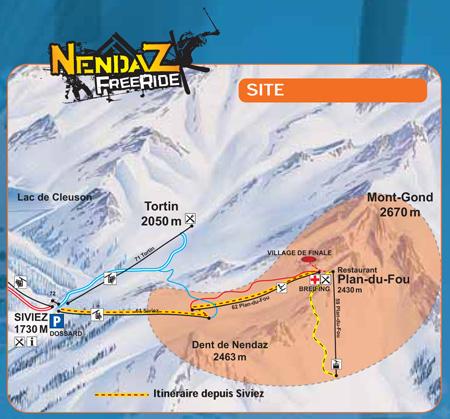 Schedule
Film and conference of Friday evening animated by Jean-Yves Michellod
For our usual evening of Friday on the topic of ski prevention, join us for the projection (free entrance) of JYM SKIEUR LIBRE. This film, produced by Loris and Nicolas Falquet won the Gold Devil at the film festival of Diablerets. Winner of Xtreme de Verbier in 2004, the guide and skier Jean-Yves Michellod was victim of a terrible accident in 2006 which cost him the use of his legs. Today he is back on his skis and proves that with the power of will one can move mountains A lesson of life and humility. Jean-Yves Michellod will be present to discuss and answer all your questions.
Saturday: Qualification
From early morning and during the day, riders (more than 100) will carry out two qualification runs. They will compose with the elements of the mountain, keeping fluidity, control and a complete engagement to try to win a place for the Sunday final.
The list of qualified riders will be announced at 7 pm in the Cactus Bar in Nendaz.
Sunday: the super final
Sunday morning, meet us at the Top of the Plan du Fou and in front of the face of the Mont-Gond to attend the final of the Nendaz Freeride. From 10h00, the first of the 30 best riders will ski down. A spectacular show is expected. At the restaurant of Plan du Fou at 2430m altitude there will be barbecue, DJ and live music by the group Synopsis - animation guaranteed!
For more informaiton visit www.nendazfreeride.ch