Watch US Open highlights
Mon 23 March 09
We've got some video of the Burton US Open halfpipe & slopestyle
Chas Guldemond
Peetu Piiroinen in the halfpipe
Next Story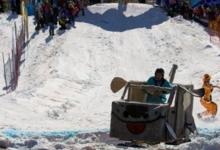 Mon 30 March 09, Aspen Snowmass, USA
The silly season begins. A dozen teams came out to compete in Aspen and rode human-powered crafts down Fanny Hill hopefully across the pond. My favourite, the Dumb and Dumber themed team, I Got Worms.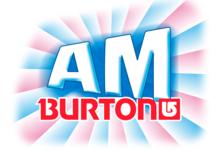 Mon 30 March 09, Val Senales, Italy
Last stop on the Burton AM Tour was up on the Val Senales Glacier in Italy, despite the weathers best efforts, the event till took place. Some excellent results for the Brits with 11yr old Katie Ormerod winning the overall Youth girls series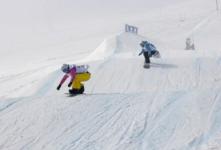 Tue 31 March 09, Laax, Switzerland
Day 1 of the Brits, and would overwhelming favourites Zoe Gillings and James Foster take the top prize in the boarder cross?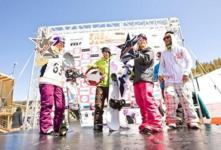 Tue 31 March 09, Mammoth Mountain, USA
Jana Mayen-Wetherby takes the slopestyle contest with Brit star Jenny Jones coming 2nd. Kelly Clark won the halfpipe and takes the overall TTR series title.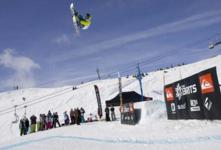 Wed 01 April 09, Laax, Switzerland
2nd day of the BRITS 09 for the Quiksilver Big Air Championships yesterday and the standard of riding was immense. Nate Kern set a new BRITS record with a backside 1260 and Laura Berry stepped it up with a huge 360 to take the 2009 British Quiksilver Big Air Championship titles. Check out the highlights here!
16-22 March 09
In Stratton of course
Mens Big-Air Leaderboard
1. Corning, Chris (763.53)
2. Thorgren, Sven (677.76)
3. Gerard, Redmond (605.05)
4. Parrot, Max (596.99)
5. Mack, Kyle (588.06)
Mens Halfpipe Leaderboard
1. Hirano, Ayumu (935.30)
2. White, Shaun (912.63)
3. James, Scotty (847.95)
4. Ferguson, Benjamin (825.97)
5. Totsuka, Yuto (792.05)
Mens Slopestyle Leaderboard
1. Kleveland, Marcus (908.97)
2. McMorris, Mark (876.53)
3. Thorgren, Sven (848.77)
4. Corning, Chris (807.18)
5. Gerard, Redmond (805.27)
Womens Halfpipe Leaderboard
1. Kim, Chloe (1000.00)
2. Clark, Kelly (878.70)
3. Mastro, Maddie (875.23)
4. Liu, Jiayu (834.00)
5. Gold, Arielle (794.39)
Womens Slopestyle Leaderboard
1. Anderson, Jamie (933.33)
2. O`Brien, Spencer (839.51)
3. Norendal, Silje (678.85)
4. Rukajarvi, Enni (676.14)
5. Marino, Julia (635.32)
Advertisement