Freestyle.ch 2010 in Zurich, 2 days this year
Wed 30 June 10
Running September 25 and 26, the largest freestyle sports event in Europe, will be bringing together the best of the best in the fields of snowboarding, freeskiing, FMX and skateboarding on the edge of the Lake Zurich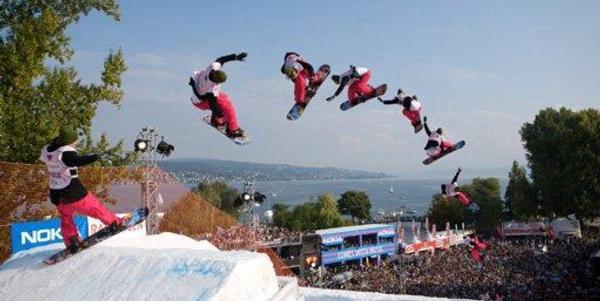 On September 25 and 26, freestyle.ch in Zurich, Switzerland, the largest freestyle sports event in Europe, will be bringing together the best of the best in the fields of snowboarding, freeskiing, FMX and skateboarding on the Landiwiese. What's different about this year is that the freestyle.ch program will be packed into two days.
For the first time, the program at freestyle.ch Zurich on September 25 and 26 will be packed into two days. «With the entire qualification round and the crossover session, Saturday will attract even more visitors because all of the athletes will be there», says Erwin Flury, President of the Organizing Committee.
Two concerts will bring the musical groove to the Landiwiese. The finals – featuring the world's best freestyle athletes in the disciplines of snowboarding, freeskiing, FMX and skateboarding – will take place on Sunday, as usual. Around 35,000 visitors are expected over these two days.
On Friday evening, freestyle.ch fans will really get their money's worth at the Riders Welcome Party. The Delinquent Habits will provide musical entertainment during this exclusive presentation of the athletes.
More information about the event and other ticket offers can be found at http://zurich.freestyle.ch.
Next Story
25-29 September 09
Europe's biggest freestyle sports event featuring snowboardering, freeskiing, FMX pilots and skateboarding.
Advertisement