WSG at the Follow Me Down premier
Fri 10 September 10
Will the mix of James Lavelle and UNKLE and legendary freeriders Jeremy Jones and Xavier De Le Rue work as they hike Antarctica, WSG went to the premier in London to find out, and judge yourself and watch the film here for free!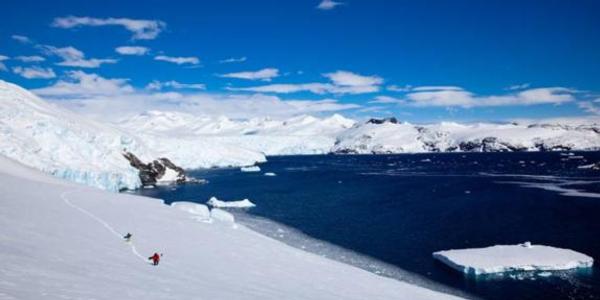 If you are part of the extremely niche group that happens to love UNKLE and also has a passion for big mountain snowboards films, then this film was made for you!
However I tried and failed to understand the "cut and shut" editing between James Lavelle's (aka UNKLE) narrative on his emotional struggle with the music press and the truly innovative expedition by Jeremy Jones and Xavier De Le Rue to Snowboard Antarctica!!
So let me stick to the bit I understood, the snowboarding!
Don't expect an Absinthe films style spin fest, this is a brilliantly shot adventure story about these two truly legendary big mountain riders heading to Antarctica to explore a true snowboarding frontier.
No Heli's, no mountain rescue! Just ropes, crampons and some very steep mountain faces!
Watch the whole film now for free!
It's a cliché but they really do earn every turn. With only one run a day there is not a lot of boarding footage but this is about quality not quantity. The cinematography of Antarctica and helmet cam shots are just breath taking! Well worth watching!

For more information check out their website
www.relentlessenergy.com/followmedownfilm
Next Story