Swiss clean sweep in mens halfpipe at Evolution 11
Fri 07 January 11
It was halfpipe finals day in Davos on Friday, and Christian Haller pipped Iouri Podladtchikov and Jan Scherrer in the mens final and Kelly Clark was head and shoulders above the field to take the womens title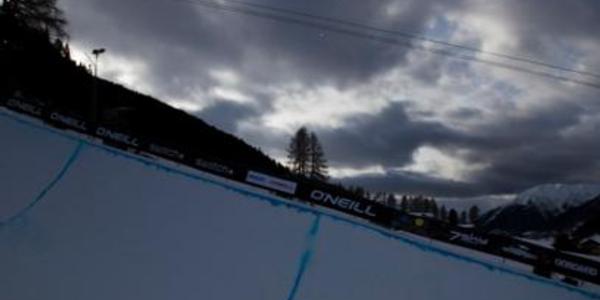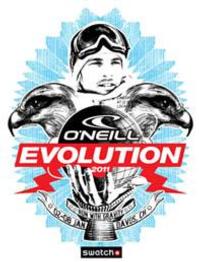 Local Davos hero Christian Haller and American halfpipe star Kelly Clark took top honours at the O'Neill Evolution Halfpipe finals in a spectacular day of snowboarding action.
It was a close fought final in the 6Star TTR Men's competition with the top three on the podium – an all Swiss affair of Christian Haller, Iouri Podladtchikov and Jan Scherrer – exchanging the lead after each heat.
It was Christian however who took the final victory and the $15,000 prize money after his third heat run with a score of 87.45 for a run of a Backside 540 Melon, Frontside 1080 Tail, Cab 1080 Nose and Frontside 900 Mute.
"I'm feeling great. I wouldn't have expected it – honestly!" he said. "I grew up in Davos and I grew up riding this pipe so it makes it even more speical than a normal win," said Christian. "It's also a really good feeling to be on top with two of my best buddies."
Last year's winner Iouri Podladtchikov had been leading after his second run of a Cab 720, Frontside Crippler, Backside Double McTwist 1260 and a Frontside 1080 Tail.
"I was thinking that I could have made it two wins in two years after landing my trick. But it feels great to have Christian in front of me. Of course it hurts a bit. But it's Christian. If it was someone else I would probably be more pissed right now."
The surprise of the day came from the 16 year old Swiss rider Jan Scherrer who finished third after leading at the end of the first heat. "I was so surprised," said Jan who goes to school here in Davos. "It's such a huge result for me!"
The Women's event saw a different show with Kelly Clark dominating throughout – and the crowd gathered at the bottom of the Jakobshorn loving every move.
"I've never been here before," said Kelly. "But it's great. Having another first place let alone at a 6star is just great!"
The 27 year old American continues to push women's riding, her second run consisting of a Frontside 900, Backside 540 Mute, Frontside 720, Indy and Cab 720 Mute.
"The sport is progressing and I just feel honoured to be part of that and part of shaping that," said Kelly. "I love competing. I thrive in this environment. It causes me to rise to the occasion and have great riding come out. I don't see myself slowing down any time soon," she said.
Behind her was the 19 year old Slovenian rider Cilka Sadar in second and the Norwegian rider Kjersti Ostgaard Buaas in third.
"It's great to finish in the top three of this 6Star TTR event," said Kjersti. "I found it hard today because of the flat light. I didn't get to do the tricks I had wanted to, but it's still a good birthday present for two days ago!"
Don't forget you can watch Saturdays slopstyle finals live from Davos, right here on WSG, just head over to the video section
MEN AND WOMEN'S SLOPESTYLE FINALS
TOMORROW JAN 7th
10:30 12:00 SS Training
12:15 13:30 SS Women Semi Final
14:00 15:00 SS Women Final
15:00 15:15 SS Women Prizegiving
16:00 17:15 SS Men Training
17:30 18:45 SS Men Semi Final 1
19:00 20:15 SS Men Semi Final 2
20:35 21:45 SS Men Final - 10 Riders x 3 runs
21:45 22:00 SS Prizegiving
Next Story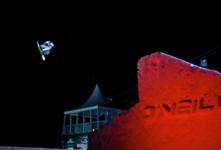 Sun 09 January 11, Davos, Switzerland
Seb Toots and Jamie Anderson have taken victory at the O'Neill Evolution 2011 slopestyle to close a great week in Davos.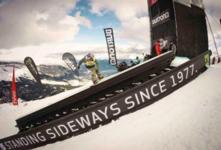 Wed 12 January 11, Laax, Switzerland
The Juniors kicked of the 2011 Burton European Open in the slopestyle and halfpipe competitions on Saturday and Sunday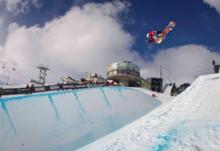 Wed 12 January 11, Laax, Switzerland
16 year old Jan Scherrer (SUI) won the Men's Qualifications, and UK rider Ben Kilner also qualified. Australian Holly Crawford, BEO 2007 Halfpipe winner, landed on the top spot in the Women's Qualification
Thu 13 January 11, Laax, Switzerland
Two-time Burton Global Open Series overall winner Peetu Piiroinen qualified in first place as 42 became 10 in the mens slopestyle semi finals. Britain's Jamie Nicholls narrowly missed out on the finals, finishing 13th.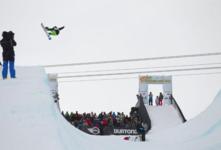 Thu 13 January 11, Laax, Switzerland
Despite challenging weather conditions, men's halfpipe and women's slopestyle semi-final competitions finished up at the BEO today with the men kicking things off in the halfpipe followed by the women in the slopestyle course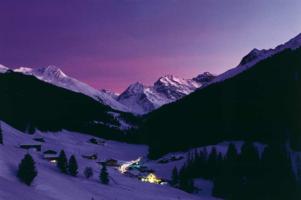 "The best overall resort in Switzerland offering something for everyone. Huge pisted area and excellent freeriding spread across 5 mountains, and not to mention the terrain park and 2 halpipes. Direct train services and good local services complete the package, but go mid-week to avoid the masses."

2-8 January 11
At the bottom of the Jakobshorn in its usual place, is where the 6*TTR Slopestyle and halfpipe competitions will be held
Mens Big-Air Leaderboard
1. Parrot, Maxence (680.23)
2. Tonteri, Roope (655.50)
3. Truchon, Antoine (602.84)
4. Thorgren, Sven (602.06)
5. Sandbech, Stale (563.53)
Mens Halfpipe Leaderboard
1. Gold, Taylor (882.80)
2. Bretz, Greg (858.51)
3. Hiraoka, Taku (847.16)
4. Hirano, Ayumu (833.53)
5. Vito, Louie (713.54)
Mens Slopestyle Leaderboard
1. McMorris, Mark (968.03)
2. Sandbech, Stale (916.33)
3. Parrot, Maxence (905.33)
4. Thorgren, Sven (802.90)
5. Kotsenburg, Sage (785.45)
Womens Halfpipe Leaderboard
1. Clark, Kelly (1000.00)
2. Kim, Chloe (867.90)
3. Bleiler, Gretchen (851.23)
4. Farrington, Kaitlyn (796.03)
5. Gold, Arielle (773.27)
Womens Slopestyle Leaderboard
1. Anderson, Jamie (966.67)
2. Rukajärvi, Enni (883.43)
3. Pancochova, Sarka (845.16)
4. Norendal, Silje (831.27)
5. Derungs, Isabel (816.28)
Advertisement