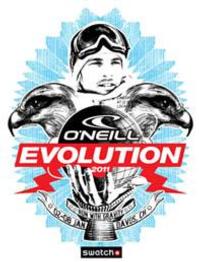 Seb Toots and Jamie Anderson have taken victory here at the O'Neill Evolution 2011 in a dramatic and sensational day of slopestyle finals.
Seb pipped fellow North Americans Mark McMorris and Eric Willett to the top of the podium and the $15,000 prize money with the last run of the entire event in what was one of the most hotly contested in memory.
"I am so stoked. This is just so crazy," said Seb. "On the last run I was out of the podium. I wanted to be up there with my friends so bad. So just to put it down and then catch up to first place was insane. This is one of my biggest accomplishments in snowboarding ever," said the 18 year old Canadian.
The evening victory completes an action filled day for Seb in which he also signed a new 5 year deal with O'Neill.
The three North American boys have been pushing each other throughout the week of training here in Davos, Switzerland. And today that level was taken one step higher with all three winning with a Cab Double Cork 1260.
"The quality of riding in this final was insane," said Seb. "Everyone was stepping it up on every run. Eric and and Mark just killed it. I'm just so stoked to be on the podium with two of my best friends."
Mark McMorris nearly didn't make it onto the podium with a massive fall after landing his Cab Double Cork 1260 Nose on his first run.
"To get knocked out one run and then land the next run was like a dream come true," said Mark. "I didn't even know what i was doing. My head was mad spinning. I was knocked out. I didn't even know if I should drop. Then it was my turn and I just dropped. That was the best choice I've ever made. I'm so happy right now to be OK and be on the podium with my two best friends."
The all-North American final was something the three boys had been talking about all week.
"We've been in the hotels talking about it," said Eric. "This is what we wanted right here. We were saying If we land all our runs it's going to happen. So to have it actually here is amazing."
Earlier in the day Jamie Anderson won the O'Neill Evolution 2011 Slopestyle Finals in a close fought final between herself and Sarka Pancochova
"I'm so ecstatic! I won the O'Neill Evolution!!" said Jamie. "The level of riding was awesome. I was scared! On the last run I was thinking I really need to land this run now," she said.
Jamie was sitting in second behind Sarka before pulling out a run of a Backside 540 Mute followed by a Switch Boardslide to Backside Boardslide on the bottom section for which she was awarded a score of 92.20.
"A lot of times I've been at events and done a 360 and been good," said Jamie. "But this was an event where I knew I needed to step it up and do something more technical, especially with Sarka landing her Back 5.
On the final run of the day Sarka attempted to regain her lead but fell on the landing of her Backside 720 Indy.
"I was going to do a 320, then my friend was telling me to do the 5, so as I was coming up to the jump. I was like, whatever – i am just going to do it," said Sarka. "I then wish I had landed that 720, but I have had a lot of fun here. I love that it's in the middle of the city and I love the crowds that are at the bottom. There is such a cool vibe to this event."
For more information visit oneill.com/evolution