Xavier de Le Rue wins the Xtreme Verbier 2011
Sun 20 March 11
The Nissan Xtreme Verbier was the last event in the 2011 Freeride World Tour for the year, and it was Frenchman Xavier De Le Rue who took the final honours, Britains James Stentiford was once again on the podium. In the womens event Anne-Flore Marxer took both the event and the tour title.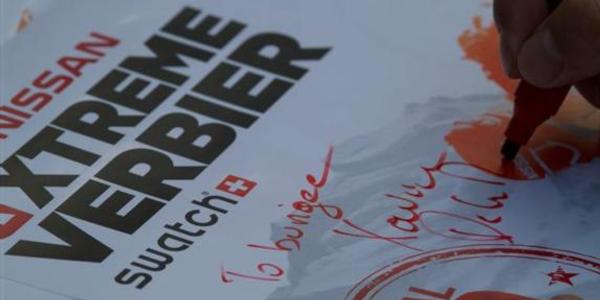 The world's best riders put on a great show today as they tested their skills against freeriding's most legendary face, the Bec des Rosses in Verbier, Switzerland. Today's event determined who would ride away with the title of 2011 Freeride World Champion. In front of 7000 cheering spectators, men and women skiers and snowboarders attacked the steep, 600-meter face in a technical battle that challenged the complete skills of every rider. Mitch Toelderer (AUT) and Anne-Flore Marxer (SUI/FRA) took home the 2011 Freeride World Champion titles after the final competition of the six-event 2010 Freeride World Tour.

On a gorgeous day with a fresh blanket of cold snow and bluebird skies, riders competing today on the Bec des Rosses skied their best lines in an effort to join the elite few who have been able to call themselves Freeride World Champion. Prior to the event, organizers closed the top looker's right of the face due to security reasons. However, several riders used creative line choices to find their way through the labyrinth of rocks, some to access the main cliff that was the key to winning today's event.

In the men's snowboard division it was the Austrians who dominated the 2011 season. Mitch Toelderer (AUT) charged the mountain today, riding well enough to score him the 2011 Freeride World Champion title. Fellow countrymen Flo Orley takes the second spot on the podium after a year of solid performances. Defending three-time Freeride World Champion Xavier de Le Rue (FRA) won the prestigious "Xtreme" for an impressive fourth time and placed third overall for the season.
Mitch Toelderer (AUT): "Ten years ago I started my freeride career here in Verbier. I won the Xtreme and got stuck in the scene and now I am super happy to win the Freeride World Champion title ten years later. I'm stoked to finish the tour and end the season well with this great result."
In the women's snowboard category Anne-Flore Marxer (SUI/FRA), better known for her freestyle skills, won today's event as well as the 2011 Freeride World Champion title. And she did all this as a wildcard in her first season on the tour!
Anne-Flore Marxer (SUI/FRA): "The Bec des Rosses is by far the most beautiful face and the conditions today were without a doubt the best of the season. It's important for me to point out that while this face is beautiful it's far from being easy. I was thinking that I would take a steep line to take speed and jump a lot of cliffs but in the end I decided to be safe partly due to the sluff and hidden rocks. This title makes all my efforts this season worth it. The Freeride World Tour has been a great experience. I can't wait to come back next year!"
The overall season rankings were rounded out with Liz Kristoferitsch (AUT) in second and Ursula Wohlschlager (AUT) third.

In addition to a total cash purse of $60,000 for today's event, each of the 2011 Freeride World Champions wins a NEW NISSAN JUKE.
Nicolas Hale-Woods (SUI) Freeride World Tour Founder and Head Organizer:
"It's been a fantastic season and we've seen a very solid progression to the sport. Today we saw great lines, notably by the women and especially Janette's (Hargin) winning line, which showcased her professional approach. For the future, the Freeride World Tour will progress to keep pace with our fast-growing sport. We're becoming increasingly well-known to the public and we have great potential to grow even further. Looking forward to the fifth edition 2012."

Results Verbier 2011 Snowboard Men
#1 Xavier De Le Rue (FRA)
#2 Mitch Toelderer (AUT)
#3 James Stentiford (UK)
#4 Max Zipser (AUT)
#5 Aurelien Routens (FRA)
#6 Flo Orley (AUT)
#7 Jonathan Charlet (FRA)
Results Verbier 2011 Snowboard Women
#1 Anne-Flore Marxer (FRA/SUI)
#2 Maria De Bari (USA)
#3 Ursula Wohlschlager (AUT)
#4 Aline Bock (GER)
#5 Liz Kristoferitsch (AUT)
#6 Maria Kuzma (NZL)
2011 Freeride World Tour final overall results
| | | | |
| --- | --- | --- | --- |
| | | | |
| 1 | TOELDERER | MITCH | AUT |
| 2 | ORLEY | FLO | AUT |
| 3 | DE LE RUE | XAVIER | FRA |
| 4 | CHARLET | JONATHAN | FRA |
| 5 | ZIPSER | MAX | AUT |
| 6 | STENTIFORD | JAMES | UK |
| 7 | ROUTENS | AURELIEN | FRA |
| 8 | ANNETTS | MATT | USA |
| 9 | BULLET | RAPHAEL | SUI |
| 10 | KHRYACHKOV | GENNADY | RUS |
| 11 | CERNIK | MARTIN | CZE |
| 12 | BADOUX | EMILIEN | SUI |
| 13 | FINCH | ANDY | USA |
| 14 | HEALE | SCOTTY | NZL |
| 15 | ILYINYH | IGOR | RUS |
| 16 | RIETMANN | DANIEL | SUI |
| 17 | HOFFMANN | ALEXANDER | AUT |
For more information visit www.freerideworldtour.com
Next Story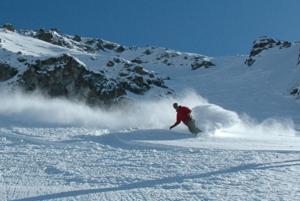 "Extremely good resort with some of the best extreme terrain in Switzerland and the world for that matter. "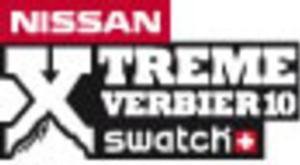 20 March 11
The final stop in the 2010/11 Freeride World Tour heads to the Swiss giant, Verbier.
Advertisement