STUBAI GLACIER SPRING SESSIONS 2012: UPDATE
Thu 01 March 12
Counting down the days! Once again, the Spring Sessions are going to kick off on March 24th 2012 on Stubai Glacier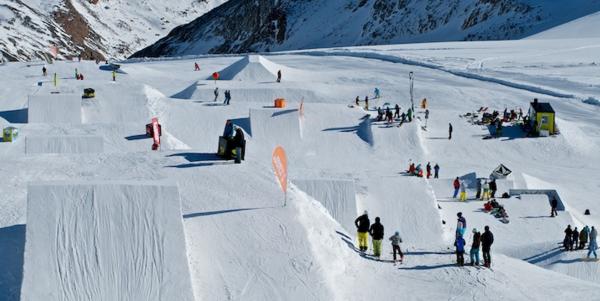 Austria´s greatest glacier ski resort only 45 car minutes away from
Innsbruck, Tyrol. As every year, the MOREBOARDS Stubai Zoo will come out of its hibernation
for two months of full action on the great setup. T-shirt riding, coachings, board testing,
contests and barbeque sessions, these are the Spring Sessions 2012 at the snowpark on
Stubai Glacier!
On March 24th, the possibly best season will be kicking off on Stubai Glacier. After the winter break,
the MOREBOARDS Stubai Zoo is going to show off again with its popular spring setup. Until the end
of May, the snowpark on Gaisskarferner will be scoring with a daily shaped Pro-, Medium- and Easy
Line. Beside a 3-jump kicker line in the Pro park, a great variety of jib obstacles belong to the Zoo
setup. Thus, no time for boredom! The park base attracts all exhausted riders to chill out in a deck
chair with barbeque sessions and fresh drinks.
Beside coaching sessions such as the Liptstick Ladies Day presented by Golden Ride and a couple of
testing weekends, the winner of the Quiksilver Jib Session, that will go down on the 5th of May, will not
only travel to the Quiksilver Surflodge Portugal by www.puresurfcamps.com for a one-week holiday for
two this summer, he will also be rewarded with coverage in the Snowboarder MBM Magazine.
MOREBOARDS team riders like Elias Elhardt, Tom Klocker, Peter Koenig and Mario Wanger are
coming to shred the Zoo at Pleasure presents: MOREBOARDS "Battle the Pros" on May 12th.
Everyone can join in the session and grab for some bank notes out of the one thousand Euro heavy
prize purse in the cash-for-tricks session. The best amateur rider will also take home a Red Bull
MOBILE contract. No one should miss the Spring Sessions Afterparty, that will take place on the 12th
of May at Dorf Pub in Neustift.
All those, who are still looking for a budget accomodation, should go for the Spring Sessions Complete
Packages from 79,- Euros on. All infos and bookings on www.stubai-zoo.com.
The Spring Sessions 2012 at a glance: 24. March to 28. May 2012 – Open Park
MARCH 2012
24.03. Park Opening with Forum Snowboards & friends
31.03. Stubai Jam / Wir Schanzen tour stop
APRIL 2012
07.-08.04. Free Snowboard & Freeski Test Lib Tech, Gnu, Roxy
21.04. Lipstick Ladies Day presented by Golden Ride
MAY 2012
05.05. Quiksilver Jib Session presented by Snowboarder MBM
12.05. Pleasure presents: MOREBOARDS battle the pros
12.05. Spring Sessions Party Night @ Dorf Pub Neustift
18.-20.05. Freeski Test, Photo Session & Coaching Camp presented by Freeride.cz
Next Story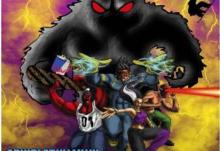 Fri 02 March 12, Spindleruv Mlyn, Czech Republic
From 16th to 19th of March in Spindleruv Mlyn, Svaty Petr, the best resort in Czech Republic.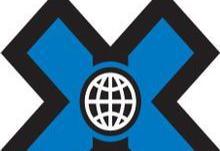 Fri 02 March 12, Tignes, France
Europe's top winter action sports competition returns to France for third year. British medal hopefuls Jenny Jones and James Woods are set to compete.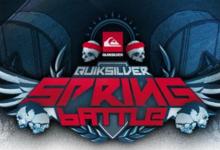 Fri 02 March 12, Flachauwinkl - Kleinarl, Austria
From March 28th to 31st, the Quiksilver Spring Battle is going to celebrate its 10th anniversary at Absolut Park Flachauwinkl in Austria.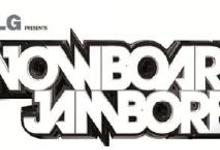 Fri 02 March 12
was a first for the Snowboard Jamboree organizing committee—a record of five World Cups in seven days!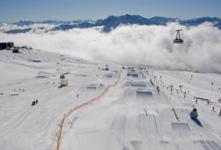 Fri 02 March 12, Laax, Switzerland
Another bluebird day, spring temperatures and an epic Slopestyle course laid the groundwork for one of the Burton European Open's most memorable slopestyle competitions earlier today.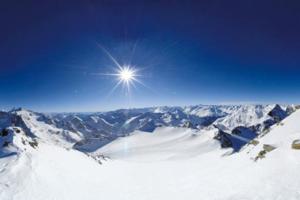 "Open from September until June, and a great choice for an early or snow sure shred. Good open flat runs, but can get crowded at weekends."
Advertisement