9010 Team Challenge / Final of Oakley womens China Tour
The Oakley Womens Team guided by Jay 3 and Dan Mau from 9010 made it to Beidahu for their final tour stop after a day riding at Changchun Lianhuashan Resort, a sneak peak at Harbins Ice Sculptures and hitting the slopes at Maoershan Resort. The days riding and evenings out for dinnerparties with the locals were meetings of same spirited people who became friends through the sport they love!

Beidahu, 10th and 11th of February 2007

Beidahu Resort is located 50 km outside of the city of Jilin. The surroundings mark one of the biggest mountains in this area and adding to the fame, the resort recently hosted the ski and snowboard competitions of the 6th Asian Winter Games.

We picked the best venue for the biggest contest ever held in China says Ron Smith who was responsible for the Setup of the Kickers and Rails for the Team Challenge.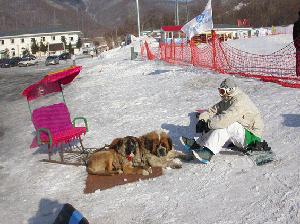 This two day event wrote history:
For the first time, athletes of the Chinese national Team, international pro Riders and Amateurs were riding and competing together!

On Saturday the early arriving teams and crowds faced snow and a bit of wind in the morning. 68 participants took two runs each in the Superpipe, their performance was judged by CSA, 9010 reps and Guest Judge Oakley Rider Laura Hadar.
After the lunch break everyone moved over to get to see the High Ollie contest and the following Night Rail Jam. Besides national and international individual participants, a total of 10 Teams entered the competitions.

The 9010 High Ollie contest was great, I judged for the first time. It was pretty cold out but very cool!
Channelle Radics, Oakley womens team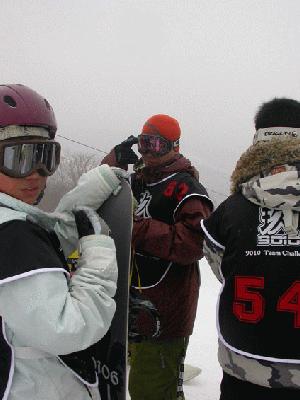 Sunshine and frizzly temperatures awaited the riders for the Slopestyle contest on Saturday. A large number of spectators came to see the tempting event.
The prizegiving ceremony at the base of Beidahu Resort was a great final to this gathering of snowboarders in Dongbei!
RANKINGS - 2007 9010Team Challenge
Super Pipe men
1st: Zeng Xiao Ye
2st: Chen Guan Wen
3st: Hu Yi
Super Pipe women
1st: Liu Jia Yu
2st: Pan Lei
3st: Wu Li Hua
men
1st: Cheng Jin Hui
2st: Hu Yi
3st: Liu Jia
women
1st: Liu Jia Yu
2st: Pan Lei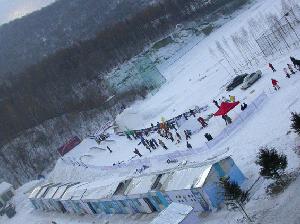 Rail Jam men
1st: Zeng Xiao Ye
2st: Cheng Jin Hui
3st: Tong Chao
Rail Jam women
1st: Pan Lei
2st: Lu Wen Ping
3st: Liu Jia Yu
Slope Style men
1st: Zeng Xiao Ye
2st: Dai Kai
3st: Cheng Jin Hui
Slope Style women
1st: Pan Lei
2st: Liu Jia Yu

team rankings 9010
1st : 9010Blazers Shi Wan ChengZeng Xiao YeChen Guan WenSun Zhi Feng
2nd : 9010King Kongz Tong ChaoYue LingHe WeiPan Lei
3rd : 9010superstars Huang Shi YingHu YiLi YangLu Xiao Xiao

Watch out for the next event 9010 pulls off after attending ISPO Beijing >>

9010 Chang Bai Shan Mountain Challenge (international)
Where: Chang Bai Shan National Park
When: March 29th-April 2nd (allow for a 4 day stay)
What: The 9010 Chang Bai Shan Mountain Challenge will be a 2 day event that will bring riders (skiers and snowboarders) from all over the world to experience the natural beauty of the Chang Bai Shan National Park. 

Event: A Top-To-Bottom run that will test an athletes Endurance and navigational skills over natural terrain.