The Dachstein Park kick starts the summer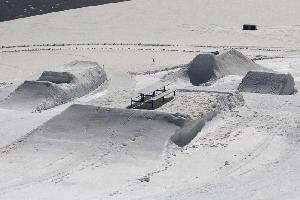 The setup of the new Burton Superpark on Dachstein glacier is simply incredible for summer riding! This is, without a doubt, the best Burton Superpark Dachstein has ever seen! The Quality Snowparks team and parkdesigner Bernd Mandlberger did an ubeliveable job and created a fantastic playground for all motivated riders. Though the temperatures get really high these days, one should travel up to Dachstein early bird - to have enough speed for all ostacles. Check out the attached fotos to get an idea of what's waiting for you!
The Burton Superpark on Dachstein is open till the middle of july for more information see our review page.