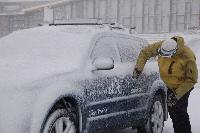 With just 18 days to go until the official opening of the ski season, the entire Perisher Blue Ski Resort has been coated with 10-15cm of fresh snow overnight direct from Mother Nature!

On top of this, subzero temperatures have enabled snowmaking to commence, adding to the natural falls, providing the perfect start to season 2007.

A light dusting yesterday was the sign of things to come with further falls registering from about 4.30pm, increasing in intensity during the night with the heaviest falls accumulating from 7.30pm to midnight.

Neil Thew, Public Relations & Business Development Manager for Perisher Blue said, "Snow falling at this time supports the predictions of a healthy winter ahead. With just 18 days to go, this is excellent news for skiing and snowboarding enthusiasts."

So with snow on the ground, Perisher Blue just can't wait to push the start button on the green powered V8 Express chairlift and kick off winter 2007! The extensive summer works (including the $3.6 million snowmaking improvements) are complete, the two new groomers as well as five additional terrain park rails have arrived, the last coats of paint are being slapped on and new signs are popping up all over the Resort.

The Snowsports School are also ready to offer guests its swag of new and exciting products, including extended group lesson times to 2.5 hours. To find out more, go to .