Five new technical rails are planned for Perisher Blue, adding to the 15 already located across the four terrain parks in the resort.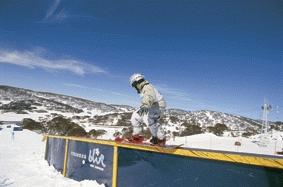 The impressive line up of park features now includes: 20 fun-boxes and 20 rails of varying sizes, not including Boost Mobile's world record long rail or the giant PlayStation Wall ride. This equates to over 200 metres of jibs in Perisher Blue for thrill seekers to try and conquer, bringing the resort in line with other renowned world-class terrain park locations.

The five new rails will comprise of four 6-metre rails one each set for the Fusion Parks in Front Valley (PlayStation), Blue Cow (PlayStation), Leichhardt (Garnier) and Mt Piper (Columbia) and an 8-metre down rail earmarked for Front Valley.