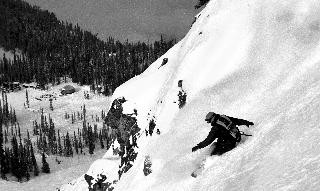 With a mid-mountain snow accumulation of over 350cm, the most in the area by far, the resort announced it can't hold back the powder hounds any longer and plans to open early for the season on December 2nd. Originally scheduled to open on December 15th, the resort plans to open up the mountain for the weekend of December 2nd and 3rd and again on December 9th and 10th before moving to its seven-days-a-week operating schedule on the December 15th.
"For the last couple of weeks we've been watching the snow come down on the mountain and just couldn't believe our eyes," said Michael Dalzell, Resort Director of Sales & Marketing. "All the locals have been eager to get up there and sample the epic conditions and we thought an early opening would be a fantastic treat for our loyal guests," he said.
So if lucky enough to be in the area get over there this weekend but don't forget your snorkel.