SNOWY START TO WINTER 2007, MORE LIFTS PLUS RAILS AND BOXES IN PERISHER BLUE!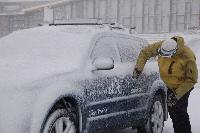 It's the start to the opening of winter 2007 we've all been waiting for! Snow is currently falling in the resort and cold temperatures (low of -4.5°C in Blue Cow) have allowed snowmaking in Perisher Valley and Blue Cow from the early hours of today.

We have had around 4-5cm of fresh snow in the village so far today, adding to the natural snow cover and snowmaking that has been going on for the past three weeks.

Mitchell T-Bar fired up at 11am this morning, and skiers and boarders have already been out on Front Valley enjoying their first turns for the season.

The Village 8 Express is expected to operate from tomorrow, and the Forester Quad Express will be open to Mid-Station for foot passengers. Mountain passes will be just $52 for Adults and $26 for Children.

The Snowsports School will also be in full swing from tomorrow, with lessons available for all levels on Front Valley. Lift and lesson packages will be available for $103 for Adults and $77 for Children.

Adding to the excitement, a 3 metre box, a 5 metre box and a 3 metre rail will be set up at the base of Sturt T-Bar in Front Valley over the weekend!

"We are delighted with how the season has started. We've had snow falling throughout the day and the snow guns have been operating since 4am. It is fantastic to see skiers and snowboarders out enjoying their first turns of the season," said Neil Thew, Public Relations & Business Development Manager for Perisher Blue.

After today's skiing and snowboarding, the celebrations are set to flow at Smiggins Hotel with Steve Whitmore's band, Venus, playing live to kick off Perisher Blue 'Celebration of Winter' festivities. The good times will continue to roll for everyone throughout the weekend with a host of FREE live music, kids fun, buskers, street performers and other exciting acts.
For more info go to Perisher Blue