Perisher
"Good freeriding"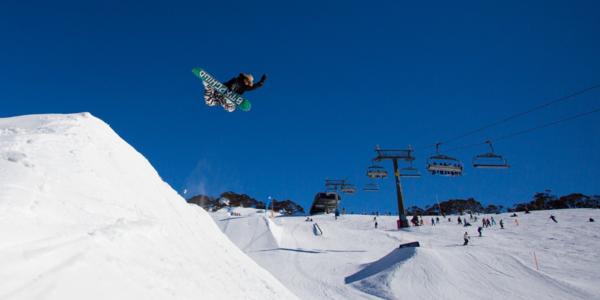 Mountain stats
Lift count : 12 x Cable-cars 28 x Drag-lifts 7 ski carpets, 2 Rope Tows
Ride area 3076 acres
Longest Piste:
2miles (3km)
Pass (Low/High Season) : £62.78-64.51 Day, £192.37-339.23 Week
Perisher is in the Kosciusko National park in the Snowy Mountains. Perisher is called Australia's 'Super Resort' as it has come about through the amalgamation of a number of resorts including, Perisher, Blue Cow, Guthega and Smiggins. There are 1250 hectares of rideable terrain with an elevation to 2054m. However the vertical descent is only about 350m. Nevertheless they have installed 47 lifts and the Australians make the most of the terrain available.
Another plus is the huge amount of encouragement for snowboarders. There is a fun-park, a separate Board Riders school a woman's snowboard programme, a Board rider's guide and the Addiction Snowboard store where they will tune and groom your stuff. The mountain itself has a good range of difficulties but unfortunately the black runs are few and far between. Also if you stick too much to pisted areas you will find little to challenge riders above intermediate standard. Most of the black runs are accessible by T-bar only and it really is a drag.
Resort Information
Location
External Links
World Ranking
Advertisement