Freeriding, terrain parks and pistes
in Lech
Freeriding
Freeriders will love this place, with large amounts of steeps and deep powder. The runs off Kriegerhorn are the total dog's 'B's', as are the powder trails down from Zuger Hochlicht, which can take you from top to bottom free of any piste-loving pop star.
On the other side of the valley, you can take the cable car to the peak of the Rüfikopf for some good steep terrain.
From the restaurant you can take a short run, and then a 40 minute hike to access a long continuous off-piste descent back in Lech, you'll need a guide though. For an easier run take the red 38a, which you can drop off and board down to the Schafalplift t-bar, take that, and from there are various routes into the valley eventually joining up to with a trail back to Lech.
Freestylers
L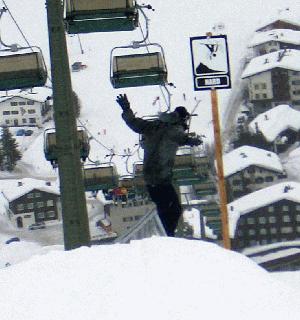 ech has an okay fun-park area, located under the Schlegelkopf lifts. The park is loaded with gaps, quarter-pipes, a good selection of boxes and rails, and a halfpipe. The halfpipe's not always well maintained, but like all the best areas here, its free of posing image junkies.
Away from the park there are loads of cliff drops of various sizes, and plenty of banked walls to pull off tricks.
Pistes
Pistes here are immaculate and groomed to perfection. You'll rarely have to queue for long for lifts, and theres a great variety of long pistes to choose from. From the top of the
Rüfikopf
you can board all the way over the
Zürs
.
Beginners
Beginners have a perfectly acceptable series of novice runs and good trails to progress on, making Lech a good first timer's resort. The only drawback is sharing the easy slopes with moaning no-hopers from the pop world, or a public school kid who thinks he's street wise (stick a finger in his eye and see what he thinks then).
READ NEXT: Village life, accommodation & nightlife
Resort Information
Location
Advertisement