Pitztal
"Snowsure resort with a good park"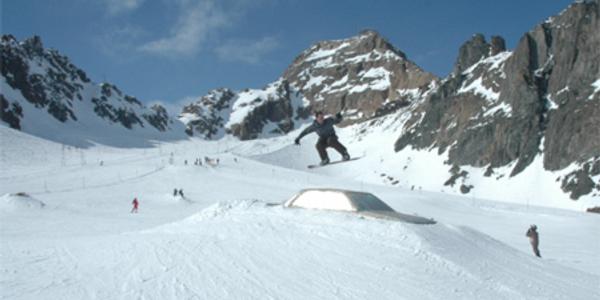 Mountain stats
Lift count : 2 x Gondolas 2 x Chairlifts 2 x Drag-lifts 1 learner rope, 1 funnicular cableway
Ride area 28km 185 acres
Pass (Low/High Season) : £31.07-34.34 Day, £147.17-163.52 Week
Pitztal
is another of Austria's glacier resorts, but this little gem has a season slightly shorter than the others with the lifts starting in mid-September and stopping at the end of May for snow sports. With an area of 185 acres it's not great in size but the terrain is ideal for a trip for beginners/intermediates and family's. Most of the area can be bagged in two days, but don't be put off as Pitztal sister mountain,
Hochzeiger
is right next door with another 45km of pistes on offer, and a dual lift pass is only a few euros more.
Surprisingly with only 28km of pistes, Pitztal offers some good leg burning runs on immaculately groomed slopes which are rarely mogulled by the end of the day. The runs are also nicely spaced out with large amounts of easy off-piste, and some trickier routes which can be accessed without any hiking. This place also gets lots of snow, and it's rare to hear that ice sound as you lay down some turns.
It's wise to remember before ducking the ropes, that being a glacier resort you should expect crevasses, so its worth getting a different perspective on an area before you just say "
Oooo powder
" and head off into the wilderness.
The Pitztal Glacier is accessed through a 3.7km funicular train, which brings you out at the restaurant and rental shop. The Funicular runs every 10mins, but expect to queue during busy times for ride up and back down. There is a route down to the base, from near the bottom of the Mittelbergjoch gondola, but check access.
The top of the Rettenbach Gondola in
Sölden
can be seen not too far in the distance, but plans to link the 2 resorts have been stuck in green tape for several seasons now.
The 2006/7 season saw some major investment with the longest t-bar being replaced with a spanking new 2-stage 8-person bubble, which goes up past the location of the Mittelbergjoch-II t-bar. There's now only one ridiculously long t-bar left
Resort Information
Location
External Links
World Ranking
Advertisement