Gala Yuzawa
"Convenient day trip from Tokyo but not a serious consideration for anyone except total beginners. There are much better resorts in the area"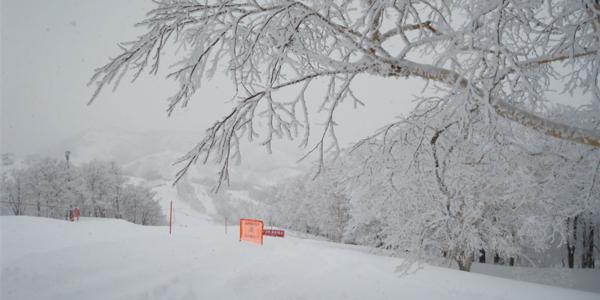 Mountain stats
Lift count : 1 x Cable-cars 1 x Gondolas 8 x Chairlifts
Gala Yuzawa is a well oiled but convenient money extracting machine for Tokyoites, which makes for around 90% of its visitors. The resort is owned by the JR-Group (the Japan Railway Group) and it takes 77 minutes on the bullet train from the main station in Tokyo direct to the resort's own train station which is a few miles from the town of Echigo Yuzawa.
You can turn up here with nothing but your credit card, hire absolutely everything, go snowboarding, take a spa, have a sleep and jump on the train back to Tokyo.
The resort is linked to Ishiuchi (better) and Yuzawa Kogen (tiny) making it a one of the bigger areas in Japan. However it links to Yuzawa Kogen via the Southern area of Gala which was closed all 2007/8 season, but still accessible via shuttle bus.
To access the slopes you need to take a gondola from the base, seriously called Cowabunga, up to 800m where the area starts. The ride in the gondola really wets the appetite as you survey the amazing terrain beneath you; it's perfectly designed for freeriding. However it slowly dawns on you that there are no tracks anywhere to be seen, and sure enough this is strictly out of bounds. The disappointment continues when you see the area you can explore, it's a mix of short mostly flat runs and badly placed lifts that ensures you'll spend most of time skating and wondering what would happen if you did drop under the gondola.
There is a small terrain park and a halfpipe but it's really beginners and day trippers who will get the most out of it. Intermediate and advanced boarders should head straight to Ishiuchi which offers a much larger area and excellent parks & pipes.
Off the slopes Yuzawa is an excellent traditional Japanese town and offers a good array of accommodation, restaurant and a few drinking spots and is an ideal base for visiting the 16 resorts within a 45 minute bus ride.

Resort Information
Location
External Links
World Ranking
Advertisement