Freeriding, terrain parks and pistes
in Furano Ski Resort
Freeriding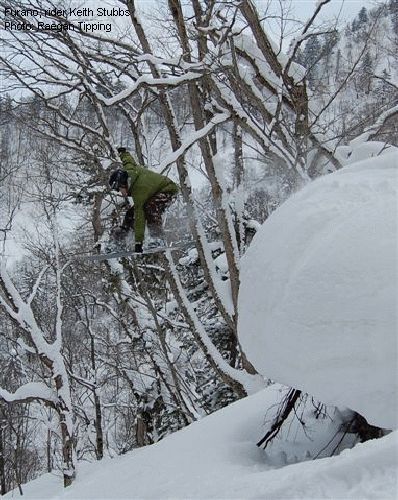 Freeride In some respects the freeriding here is very admirable: relatively steep terrain, exciting trees, some nice bowls and truly amazing powder. However, Furano maintain a policy restricting you to riding on the marked courses only - something which the Ski Patrol are known for enforcing. Having your pass pulled, or at the minimum getting an earful of harsh-sounding Japanese, can really lower the tone of your day. Nevertheless, if you're happy to play a wee bit of 'cat and mouse' you can ride fresh lines many days after a storm.
The most challenging terrain is found in the Kitanomine Zone - keep your eyes open when riding the Gondola and the Link Lift and you will spot the goods. Ideally you should befriend a local to show you the best lines. If you're content to play by the rules you will discover a good few marked courses that the cat drivers leave ungroomed. These can be fun on a powder day but can get tracked out fairly quickly, leaving some sizey bumps behind. For the better of the ungroomed courses head up the Downhill Lift number 3 (a funny little single seater), or ride the bowl known as Kumaotoshi C (when it's open!) found at the top of the Gondola.

Freestylers
Freestyle With Furano being a regular stop on the World Cup Snowboard circuit you would expect the freestyle facilities to be vast and impeccably maintained. Well this is not the case! The terrain park, located at the bottom of the Gondola, consists of one small rail, a strange oil can jib-thing and a crappy jump.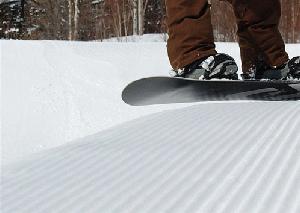 Now, the halfpipe is worth a visit - when it's been freshly cut anyway. You will find it on a run named Prince C near the Furano Zone base. It's of a decent size with walls almost 6 metres in height and a good length too. Unfortunately the pipe is not always maintained to the standard it should be and is often left with snowdrifts in the transitions.
Pistes
Piste This is what Furano prides itself on the most. There are a great variety of courses all with near-perfect grooming. When riding in the Furano Zone head to Speise C and Sailor C for some good cruisers. In the Kitanomine Zone ride the courses off of the Swift Lift number 1 if you prefer to take it easy, or check out Ladies Downhill C and Giant C for something a little steeper.
Beginners
Beginners The lower half of both zones accommodate beginners well. Lessons are predominantly given in the Kitanomine Zone using the Swift Lift number 1. Here you have an ideal gradient and fall-line to get your turns down. In the Furano Zone beginners have a short 3-man chair named Prince Romance accessing a small selection of mellow runs. If you're keen on a longer ride head up the 4-man chair found at the same place.
READ NEXT: Village life, accommodation & nightlife
Resort Information
Location
Advertisement