Wengen
"Amazing Scenery with 3 large ride areas!"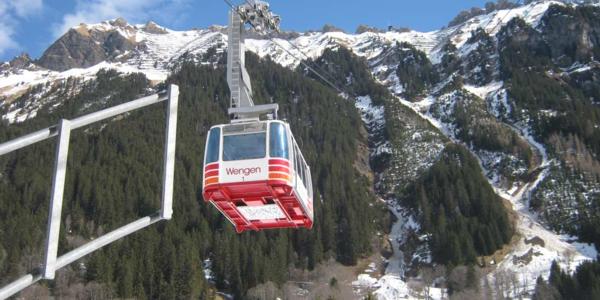 Mountain stats
Lift count : 1 x Cable-cars 11 x Gondolas 14 x Chairlifts 14 x Drag-lifts 4 Funiculars
213km of pistes
Pass (Low/High Season) : £29.88 Day, £176.15 Week
Wengen
is the best known village of the
Jungfrau
region and includes the three ride areas of
Kleine
Scheidegg
,
Grindelwald-First
and
Murren
. A total of 45 lifts and railways link the areas to provide a total ride area of
213km
, capable of getting 45,230 people up the slopes per hour.
Arriving at
Wengen
by train is a truly unique experience as you slowly climb up the mountain. Stepping off the train riders are met by a car free haven with stunning views down into the valley.
Wengen
itself is a pretty village with lots of traditional restaurants, hotels and shops.
Things soon get even more impressive as you head to the
pistes
, transported by train to
Kl
Scheidegg
or by Cable Car to
Mannlichen
riders are met with a wide variety of
pistes
under a spectacular backdrop. The truly dominating view of the North Face of the
Eiger
the
Munk
and the
Jungfrau
is something that should appeal to any rider and truly make you feel humble.
The huge amount of terrain should keep even the keenest of riders happy for a week especially if they are prepared to head around the various areas, a day spent in each is recommended.
On the mountain it is possible to find a fresh line days after a dump, but some riders may find linking between
pistes
an issue as there are quite a lot of paths and flat sections to navigate to get the various areas. Beginners may be better leaving
Wengen
till they have a few weeks of riding under their belt.
Wengen
itself is largely dominated by skiers but Snowboarders are slowly making there mark over there with a large scale Snow Park and Boarder Cross available in
Grindlewald
, which is well worth a visit for Freestyle riders.
Recently added lifts including the '
Eigernordwand
'  and the refurbishment of the
Wixi
lift have increased the speed of getting around the mountain and made getting to other areas more convenient. 
Off the slopes things aren't as expensive as you might think but it's not cheap by any standard and a week will set you back a fair amount. If budget is an option one way of visiting this spectacular area is stay down the valley in
Interlaken
which has some backpackers hostels and a few cool bars, Jamming
Coner
is well chilled with water pipes on offer and for a madder night try Hooters where the female staff all wear
hotpants
and tight tops and the football and sports always on, Buddies is like a
uk
pub. The main draw back with
Innterlaken
is you'll be getting up at six in the morning if you want to get first lift.
A must see for anyone visiting the area is a trip up the
Jungfrau
express which climbs to the highest railway station in Europe, although this may take a morning out of your week prices are significantly cheaper with a pass and it is an experience not to miss. Further information about this trip can be found on the
My Switzerland
website.
Resort Information
Location
External Links
World Ranking
Advertisement