Mountain High
"What you get here is a fun resort which offers something for everyone although this is not an extensive mountain and can be ridden with ease in a few days."
Mountain stats
Top lift:2500m
Vertical drop:671m
Bottom lift:1829m
Lift count : 11 x Chairlifts 3 x Drag-lifts 2 magic carpets
Ride area 515 acres
Total Pistes:59
Longest Piste:1.6miles (2.6km)
Have you heard about the resort that although located in the southern reaches of California and only ninety minutes from Los Angeles, boasts at having five terrain parks, two half pipes, fifty-nine named trails, twelve lifts and night riding seven days a week over seventeen flood lit slopes? No? Well let me introduce to you Mountain High, a no nonsense resort with riding over two mountain areas with a summit of over 2499 metres.
By no means is this a big resort, indeed Mountain High is relatively small when compared to the likes of its more northern neighbour Mammoth Mountain. However, unlike Mammoth Mountain this place is far less over-hyped, far less crowded and a lot more affordable. There may only be just over 500 acres of ridable terrain, but as the saying goes, 'size doesn't always matter, it's what you do with the size that counts. And to be fair, Mountain High does very nicely with what it has with tow mountain areas covered in tight trees and offering a good selection of well laid out trails. The East Resort mountain has the highest summit elevation of 2499 metres but the smallest selection of trails, while the West Resort has the largest selection of trails.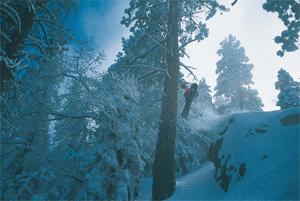 Both mountain areas have terrain parks and halfpipes however, the two areas are not connected by mountain lifts and you can't ride between the two, instead you will need to take the resort shuttle bus to reach either. They have been doing things here on the mountains since 1937 so in that time the management have learnt a thing or two. Along with standard tickets they operate lift ticket schemes such as the Flexi ticket system where you buy a pass for a certain number of hours or the Point system which is a system where you buy points that let you ride whenever you want throughout the season. You can even transfer the points to a friend.