Freeriding, terrain parks and pistes
in Solitude Mountain Resort
Freeriding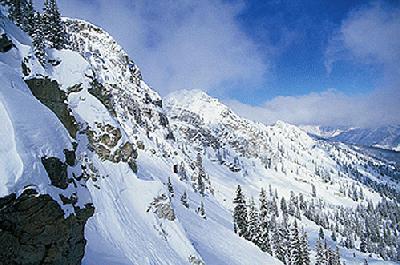 Freeriders will have no problem having the time of their lives at this resort. The summit lift is sure access to some of the sweetest powder country in Utah. Honeycomb Canyon is long and extreme and offers freeriding at its best. The Evergreen area is a must and the Headwall Forest rarely gets tracked out. The best freeriding on this mountain is the Solitude backcountry area, only accessible by hiking. These impressive steeps and powder fields drop down onto Brighton Ski Resort, but by staying far left, you will find trails that wrap back around to Solitude.
Freestylers
Expert Freestylers will probably hate it here as the Terrain Park is dedicated solely to beginners. However, everyone was a beginner at some stage and those learning will enjoy the 2 table tops, one fun box and the set of rollers on offer.
Pistes
The pistes accessed by the Eagle Express are where there are plenty of fast cruiser runs like the Challenger, Gary's Glade and Inspiration. Riders will also be happy with a handful of smooth runs off of the Summit chair such as Dynamite and Liberty. The Apex chair will get you to a few short groomers as well.

Beginners
Beginners will find that this mountain is a great place to first try snowboarding at. There is a good area for learning right off of the Moonbeam II chair, where you will find plenty of good easy runs to keep you happy for a while. North Star and South Star, off the Sunrise lift, are also great beginner runs. First timers can also warm up on Easy Street off the Link chair.
READ NEXT: Village life, accommodation & nightlife
Resort Information
Location
Advertisement