Norwegian summer glaciers
Folgefonna
Folgefonna is a small glacial resort a mere 1200 metres above sea level but with the snow dumped on it all winter there's plenty left for a bit of boarding in the summer. The highest point on the glacier is 1640meters and although the runs aren't all that long, the park should keep you happy.
There's one 1.2km t-bar and a day pass will cost 325KR The resort is located on the west coast of Norway near Jondal and about 2hours drive including the ferry from Bergen or 7 hours from Oslo. www.folgefonn.no
The resort only opens in the summer, which starts the first week of May and runs to November.
Summer camps
Folgefonn Camp has 3 one week camps here, from June 25th until July 14th. The camps are resort run and have a minimum age of 14, but are tailored to an older age group. The park has pipes, boxes, slides, jumps, a boarder cross, music and a demo centre where you can test next years boards and equipment.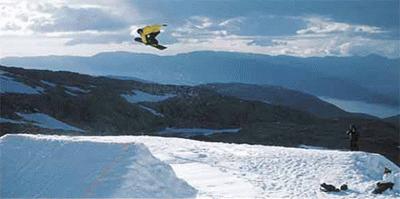 Outside the park there's a full sized indoor skate ramp, mini ramps, 5 trampolines to practice inverted tricks, and there's also a small stream and a lake where you can go boating, fishing, windsurfing, swimming and wakeboarding. You can ride with tuition from 10 till 4 everyday and with basic accommodation you'll have to part with 450. euros
For more information visit www.folgefonna.no

Galdhøpiggen
At 1850m this is N.Europes highest peak. It's not open in the winter at all, just from late May to early November. One 1.4km slope serviced by a t-bar is all you get, but the slope is almost 1km wide and the 350m vertical will allow you to pick up a bit of speed. There's a terrain park with 4-5 kickers and a number of rails.
For more information visit www.gpss.no/english
Stryn
Stryn is located at the base of the Jostedalsbreen glacier in amongst the fjords, and is Norway's most famous summer resort (in fact the only one of note really). The glacier gets so much snow during the winter, (five metres or more), that the lifts are usually totally buried so they couldn't run them in the winter even if they wanted to!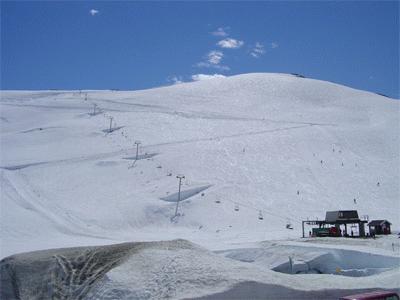 The glacier opens on the 29th of May to late July/early August. There are some beginner runs, but it's best to head for the park. It's got the usual arrangement of various kickers and rails but no pipe, although if there's enough snow they have the ability to build one. Lift passes are 365 NOK/day or 1460 NOK for 6 days, and it opens from 10am-4pm daily.
From the base area you take a chairlift up to 1300m and from there it's the t-bar. In total there are 8 designated runs. For more information visit www.strynefjellet.com
Summer camps
Summer Camp Snowboard Norge have been running camps in Stryn for almost 20 years so they must be doing something right. The courses runs from June 15th-19th and prices are 3300 NOK (£320) for the 5-days including instruction and lift pass but not accommodation. With the motto "No one too experienced, no one too inexperienced" this is truly a camp for all.
You can also bring the kids but anyone under 14 must be accompanied. Groups are split by ability and given instruction suited to their needs over the 5 days. It's not just freestyle-they also do basic beginners tuition as well. Depending on the snow they normally have 20 or so jumps and a boarder cross track.
There's the option of camping in your own tent 50 NOK/night or staying in a camp hut 135 NOK/175 NOK night, or if you have some cash you can book a Hotel www.hjelle.com There is also a big skate park to check out in the long warm evenings, and some great hiking. www.snowboard.no/camp