Home town: Sussex
Home mountain: Breckenridge, Colorado
Sponsors: DC Shoes, Venue snowboards, Drake bindings, Smith optics, Defcon gloves, BC Surf & Sport stores & d3o technology
Set up: Venue Remote 156 & Drake Czars or Dtm's.
Goofy or regular: Goofy
Stance: 24.5" 62.23cm
What gear do you ride?: DC Super Park boots, DC Hertz jacket, DC Farad-P pants, Smith Phenoms & Defcon pipe gloves
Favourite trick: Backside 180 melon and Switch underflip 540 stalefish
What are you working on? Backside 900 melon
I first got into snowboarding mainly through my dad. He moved to the USA when I was twelve, and a few years later started teaching skiing at Stratton Vermont. My brother and I would visit him in the winter and I had learned to ski when I was about nine, but going out to the states and seeing all the 'cool' boarders out there made me want to learn.
I was fifteen when I first started and my brother and I taught ourselves and I'm still learning new things every time I ride my board now. After a couple of holidays riding and teaching myself my dad thought it would be a good idea to send me to a snowboard academy in the States. I had just finished my GCSE's, so this worked out quite well and I decided I would join my brother Nate at the Crested Butte Snowboard Academy in Colorado where I could continue with my A-Levels and snowboard at the same time. I had the most amazing time at the Academy and it opened me up to the all the different possibilities and areas of snowboarding.

From here I decided this was definitely something I wanted to do and so after heading home for the summer, I applied for a job teaching snowboarding at Crested Butte Mountain in order to support myself for the winter. I got the job and spent one and a half winters teaching at C.B, at the same time as improving my own riding and starting to film my brother. C.B. is an awesome mountain with great extremes and an amazing back country which surrounds the resort.
The only thing lacking at that time was a good snowboard park (it now has an awesome park funded by DC), so with Nate getting more into competition we decided to go to Breckenridge in Summit County Colorado and what with all the resorts which neighbour it, it was all happening.
I moved to Breck for the winter 2002/2003 and spent two more years teaching there. By this time I was coming to realize that I would not get good enough to become a professional rider by teaching all the time. I was filming a lot more and not focusing so much on my own riding and after the two years I had had enough and wanted to actually push myself and teach myself rather than other people.
After my first season of riding for myself and having friends film me, I was amazed at my level of improvement and was able to put together my own demo video to send to some potential sponsors. That summer I headed out to the UK board tests in Soelden as a complete nobody in the UK scene, but this didn't bother me as I was having so much fun with snowboarding and my main goal was to meet all the different brands and to lay some ground work for my demo which I gave to everyone.
This approach worked very well and I followed up with hundreds of phone calls during the summer, by the end of which I had offers from a number of different companies. I decided to go with DC Shoes, boots, outerwear and apparel (www.dcshoes.com), Venue Boards and Drake bindings (www.northwave.com). A season later I picked up Smith optics (www.smithoptics.com), Defcon gloves (www.defconnect.com), BC Surf & Sport stores Colorado (www.bcsurf.com) and am a development athlete for D3o protective technology (www.d3o.com).
This was a great new burst of energy for me and one which made slogging out the summers a lot easier. Since not teaching I had to work hard and long in the summers to finance the winter and all the little trips which arise with snowboarding. But all the extra time I had to ride and improve made it worth it as well. My riding came on really well and I started to enter a few competitions, namely the Brits where I have finished in the top 10 for the last couple of seasons. Not firsts but pretty pleased to be in the top 10 in the UK having only really done a handful of big competitions.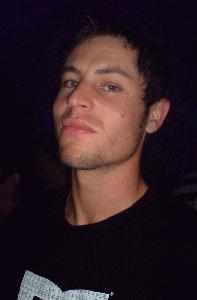 One of my main focuses in recent has been working with photographers and filmers and have been getting some great coverage from that side of things, both in the UK and States. I have video parts this year and last in films by At Once Productions in Colorado, in the USA and in the awesome Lockdown Projects movies for the last two, three years here in the UK.
I think one thing which has helped with my coverage is having good style whilst riding and jumping. It is something I have been working hard at and I attribute it to spending a lot of time on the basics and working up to the harder, bigger stuff, also to some solid training in Karate which is a great way to discipline your body. I have come a long way from the days of holidays at Stratton, overcome a lot of battles and hurdles, have come here with only a couple of minor injuries and feel very strong for the future.
Enjoy the shred!
Seb Kern

Interview
What got you into snowboarding?
It was mainly my dad, as he moved to Stratton Mountain Vermont in the States and taught skiing when I was a teenager. I would go on holiday with my brother Nate and we ended up teaching ourselves to snowboard.
How old were you when you started? I was fifteen
How many seasons have you done?
Eight seasons, four of which I spent teaching at Crested Butte and Breckenridge Mountains and the last four, riding for myself and my sponsors.

Breckenridge Mountain, Vail back country, Brighton Mountain and Soelden Austria.
Favourite place to ride:
What is your favourite terrain to ride?
I spend most of my time in the park and really enjoy riding the jumps. I also love riding powder and backcountry jumps too.
Favourite snowboard trip?
My favourite trip was to the DC Mountain Lab in 2005. I ride for DC UK and have always loved all their products, so it was really, really amazing to go there, ride their awesome park all day, hang out in the house for a well nice BBQ lunch on the deck and ride with my bro and a bunch of friends!
I also had a great trip winter 06/07 to Aspen and Utah with Nathan Gallagher, Document Snowboard Magazine and a whole host of UK riders. We had amazing snow for pretty much the whole trip, got lots of great shots and had loads of laughs and funny banter!
Scariest snowboarding experience?
Going for a front 540, leant back a bit too much and started going upside down without meaning too (see Terminal Ferocity 2007 by Lockdown Projects). Very scary, but managed to whip it around and not land on my head!
Snowboarding advice:
Always ride over a jump before you hit it and watch other people hit it to get a good idea of speed.
What other interests do you have?
I love mixing and Dj Drum & Bass and am called DJ SOCOM. My friends and I used to run a D&B night in Brighton called Trust, so got to play along side some great DJ's like Aphrodite and Ed Solo.

I have played for Knowledge Magazine, the best and biggest D&B magazine in the world. Played for them a few times at Cafe 1001, at their night Bar Knowledge. Its a wicked fun, melow night!
Played a few places in Brighton like the Honey Club and The Pressure Point. Always play new year's eve at Cecilia's in Breckenridge as well as other Clubs and bars in Breck..
I love driving my Audi S3 and live in Sussex, so plenty of fun roads to play on. Enjoy playing tennis and most sports. I also train in Karate and love the discipline of it and all the control over my body and extra balance it gives me.
Favourite snowboarders and idols?
Andreas Wiig, Simon Chamberlain, Lauri Heiskari, Eddie Wall, Jp Solberg, Peter Line, Aaron Bitner, Chas Guldemont, Reno, Brad Pitt (hahaha), Will Smith and Arnie.
Type of music & favourite band?
My favourite music to listen to, pretty much all the time, is Drum & Bass, Jungle and Ragga!
I also really like Electro and Break Beat. Hip Hop, Reggae, Rap, Dancehall, Old Skool, House, Trance, and a pretty much everything else.
Favourite Book?
Harry Potter pretty much rules. The Davinci Code and Aldous Huxley's, A Brave New World
Favourite Film?
Right now, 300! Sin City and Wedding Crashers. The new DC Mountain Lab movie 1.5 and Mack Dawg's Follow Me Around.
Favourite drink or cocktail?
I likkkke a Wodka! Wheat beer, Kronenbourg Blanc and Paulaner. Baileys and especially Car Bombs.
What could you not be without?
My Snowboard, my car and a few select pieces of the D&B vinyl.
Where I've been