About
The World Snowboard Guide (WSG) was first published in 1996 by Tony Brown to critical acclaim. The first book covered Austria, France, Italy and Switzerland, and every year it's got bigger and better. Nowadays over 60 countries and 1000 resorts are represented, and our 11th edition is full colour for the first time.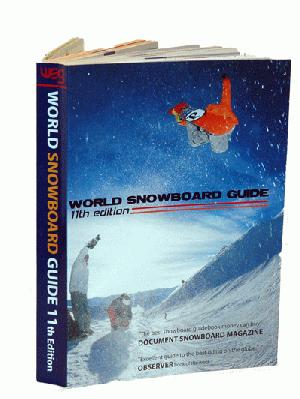 Unlike other publications that just pay lip service to snowboarding, each resort in the WSG has been reviewed by experienced snowboarders and aimed directly for snowboarders.
We produce a no nonsense independent authoritative no holds barred view on each resort; if the place is crap we'll tell you. If you're likely to be snowploughed by face painted skiers we'll let you know. We tell you where the best places are whether your bag is freeriding or you're a pipe junkie.
The online version of the guide appeared in 2000, and has undergone various updates with plenty more to make sure the World Snowboard Guide remains the best source of knowledge when planning your next snowboarding trip.
The book and the website are owned and run by wsg-media.
"the best snowboard guidebook money can buy."
Document Snowboard Magazine

"Beginner or expert snowboarder, if you're planning a trip of any kind the WSG should not be ignored"
Ski & Board Magazine

"Written by boarders for boarders, this is the 9th edition of an excellent guide to the best riding on the globe."
THE OBSERVER
"If you want to travel the world in search of freshies, the World Snowboard Guide will help you on your way"
TRANSWORLD SNOWBOARD MAGAZINE

Like things? don't like things? Got any suggestions, feedback, comments, questions or just want to say hello. contact us and get let us know what's on your mind.
We are always on the lookout for freelance writers to help out with reviews or articles. Whether you've got experience or not get in contact with us, and we'll let you know how you can help. There's no money in for you, so like us, you'll be doing it for the love of the sport, and maybe the odd free lift pass …
Various opportunities exist advertising on this website or in the next edition of the book.
Stocking the book
Do you run a shop or are you an internet retailer? Good trade discounts are available Worldwide if you are interested in stocking the book.
Got a good site or want to enhance yours by linking to this site?