articles

Summer snowboarding
Summer boarding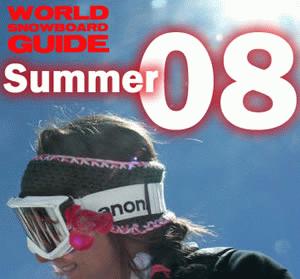 It's May, Summers a coming and there's shed loads of boarding still to be had. In that upside-down world of the southern hemisphere, people are starting to think about putting the surf boards and mountain bikes back in the garage, and blowing the dust off their snowboards. Well that's all well and good for the upsidedown ones, but what about us rightwayup lot. Don't be disheartened, there's still plenty of options, and there not all a long haul flight away.
Summer Camps and high altitude Glaciers are still open all over Europe. Ok, so no wide open powder faces to be had, but if you want to tune up or even start up your freestyle well look no further than our authoritative guide to summer riding in the Northern Hemisphere, as well as some not so obvious places down South.
Where to Go
If you do have loads of cash, and have got time on your hands, undoubtedly your best option is to head south for the winter to New Zealand, Australia or South America (see the country resort review). A bit far for a weekend or even a week, so why not head for the Alps or north to Norway or Iceland, the land's of the midnight sun. You may even get to see the Northern Lights while boarding, and you don't have to get out of bed before the sun melts everything, how cool is that?
Another option if the god of wealth is smiling down on you, is Heliboarding in the Himalayan massif; Kyrgyzstan and Kazakhstan are both great places to travel through as well as board, and really cheap outside of the Helicopter. One thing to keep an eye on is the stability of some countries, Kyrgyzstan had a revolution in March 05 and there planning an election soon, so it may kick off again. Kashmir, India, in late spring, is a great place to Heliboard but until recently was a war zone and could well be again by the time you plan a visit. The Caucasus mountains in Russia are great for summer boarding as long as you don't mind getting shot by the Chechen rebels or robbed by the Russian army who haven't been paid in months, having said that successful camps are run on Mount Elbrus for the last few years, without any problems. The best thing to do when travelling far a field is check out www.fco.gov.uk for the latest travel advice.

Park life
---
Watching locals giving it some in the park, in the winter, can be a bit intimidating for the not so gifted amongst us, so why not take a week out of your summer and get some instruction form the people who know best. Summer camps are great for anyone looking for instruction in the park. Normally run on a week long basis, in June and July. Summer camps pull together some of the best riders around to teach you new moves and how to put a tweak into old ones. Some camps do offer beginner freestyle courses so don't be put off whatever your standard, just contact camp organisers before you book. Girlie Camps run camps through the summer in various locations in Europe, and yes there just for girls.

Pic:Mmm tasty, the Big A Summer Camp in Les Deux Alps, France
What Do I Need At A Camp?
As always in the mountains the weather can change from hour to hour. The day could start in bright sunshine and by the time you've stomped your fist 360 of the day theb suns gone and the temperatures plummeted, so be prepared.
always take your own Board and Boots (most hire shops will be shut)
waterproof breathable boarding jacket+trousers
warm under clothing
helmet (must have)
back protector (should have)
goggles/sunglasses
gloves hat/baseball cap
sunscreen total block (just make sure you can rub it in)
lip protection
backpack (for all of the above)
skateboard (for the afternoon)
Glacier Riding
---
Summer Glacial riding is a great way to give first timers an introduction to the sport, and if they still don't like it, you don't have to look to hard for a crevasse to push them down. It's also good for those of you who've only done a few weeks to keep in practice for next season. There's nothing worse than finishing a holiday thinking you've got it sussed, then bigging yourself up to your mates all summer, only to find that 8 months off the board has seen your new found skills disappear like a turd down the u-bend.
Many of the Glacial resorts in Europe have restricted or stopped their summer programs, due to climate change and the erosion cased by boards and skis. That said many glacial resorts give access to their higher reaches during the mornings and early afternoon, leaving most, or all, the afternoon free for the skate park or a whole other range of summer sports. If you want to chill in the afternoons then just sit back in the sun drink some beer and wait for the lifts to open again. On the slopes there's often a park to play in and normally a few short runs to keep you amused.
The Fake Stuff
---
Riding indoors on fake snow or outside on the plastic stuff, dendex, snowflex, is a thing we Brits do well. When you've got no reliable snow fall or even mountains, like the Dutch, then there's not much choice, and of course if you're not boarding on snow then you don't need the winter. Most centers have a good scene going on, and many have snowboard only nights when they bring out a few rails and a jump or two.

pic: Xscape, Milton Keynes (45mins from London)
The Fake stuff is good for freestyle practice, and for complete beginners to get used to the feel of the board and the use of edges. But runs are short and even the diehard boarder will be bored quickly unless there's some freestyle distractions.
Centres of note
Belgium- Snow Valley
Germany- Winter Welt, Neuss
Holand- Snow Village, Biddinhuizen. SnowWorld, Maastrich. Montana Snowcentre Uithof, Den Haag Nicky Broos. Ruchpen, Zoetermeer and Landgraaf
Spain- Xanadu Madrid
UK- Xscape, Milton Keynes. Xscape Castleford. Tamworth Snowdome, Staffordshire