Crans Montana Champs Open 08
5-8 February 08, Crans Montana, Switzerland
Watch this TTR 4* Slopestyle competition live on this site on Thursday & Friday featuring Brit Sam Cullum
WATCH LIVE
The Swatch TTR World Snowboard Tour makes four stops this week, including Switzerland for the FOUR(4)STAR Crans Montana Champs Open presented by Rip Curl, a Slopestyle competition taking place February 5th to 8th, 2008. A $50 000 USD prize purse along with the winner earning 700 TTR Ranking points ensures top level riding on one of the most original and progressive slopestyle set ups on the Tour.
The competition boasts 20 invited riders and open qualifications for the semi-finals that will then move into a 12-rider final. Among the top male riders competing are Swiss local Gian Simmen who currently sits at World No 83 and could move into the Top 60, and Italian ripper Manuel Pietropoli who could move into the Top 20 with a good result in Switzerland.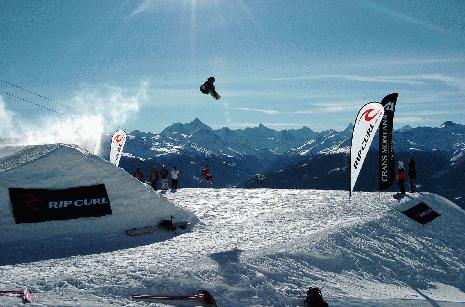 Crans Montana Champs
Photo: Arnaud Derib
The Womens Tour drama also continues with the Crans-Montana Champs Open and includes Margot Rozies from France who will be looking to make a huge leap from World No 87 into the Swatch TTR Top 40. All eyes will be on Swiss rider Sina Candrian who is posting her sixth result of the 07/08 season in Switzerland. Candrian is currently TTR World No 6 and could very well move into World No 2. Ursina Haller, another Swiss rider could make World No. 5 if she wins as Conny Bleicher from Germany looks to make the TTR Top Ten with a win at Crans-Montana.
Due to a combination of jumps, rails, and transitions, the Crans-Montana Champs Open will see the best and most well rounded riders come out on top with some truly original lines. Riders will start with two kickers at the top followed by three rail and box options. Immediately following is a mini super-pipe that will allow between 3 and 4 hits, which then leads into a Quarterpipe at the end. Riders will have to prove they have what it takes to master every type of feature and transition if they wish take home a big piece of the $50 000 on offer, and claim the 700 TTR ranking points.
Stay tuned to www.ttrworldtour.com for updated Tour news from around the world, including events such as the THREE(3)STAR MC Invitational in France, the FOUR(4)STAR Quiksilver Natural Selection in Jackson Hole USA, and the FIVE(5)STAR Honda Session at Vail, USA. Also check out the blog for additional updates and the TTR Video player for fresh action from this past weekends FIVE(5)STAR Billabong Air & Style

Seeded Riders for Semi-Finals Men:
Ville Uotila FIN Atomic
Anthony Holland SUI Volcom
Matthieu Justafre FRA Rossignol
Michael Lundmark SWE
Nils Ardvidsson SWE Rip Curl
Per Loken SWE Rip Curl
Chris Sorman SWE Burton
Sam Cullum GBR DC
Gian Simmen SUI ONeill
Manuel Pietropoli ITA Burton
Reto Kestenholz SUI Zimstern
Darius Heristchian SUI Rip Curl
Remi Lamazouere FRA Rip Curl
Alex Evequoz SUI Rossignol
Mathiue Schaer SUI Head
Seeded Riders for Semi-Finals Women:
Caroline Beliard FRA APO
Sina Candrian SUI Burton
Margot Rozies FRA Roxy
Tina Ramholt SUI FTwo
Gaetane Donze SUI
Related Pages
Mens Big-Air Leaderboard
1. Corning, Chris (763.53)
2. Kleveland, Marcus (695.57)
3. Thorgren, Sven (677.76)
4. Mack, Kyle (661.16)
5. Parrot, Max (605.76)
Mens Halfpipe Leaderboard
1. Hirano, Ayumu (935.30)
2. White, Shaun (912.63)
3. James, Scotty (847.95)
4. Ferguson, Benjamin (825.97)
5. Totsuka, Yuto (792.05)
Mens Slopestyle Leaderboard
1. Kleveland, Marcus (908.97)
2. McMorris, Mark (876.53)
3. Thorgren, Sven (848.77)
4. Corning, Chris (807.18)
5. Gerard, Redmond (805.27)
Womens Halfpipe Leaderboard
1. Kim, Chloe (1000.00)
2. Clark, Kelly (878.70)
3. Mastro, Maddie (875.23)
4. Liu, Jiayu (834.00)
5. Gold, Arielle (794.39)
Womens Slopestyle Leaderboard
1. Anderson, Jamie (933.33)
2. O`Brien, Spencer (839.51)
3. Norendal, Silje (678.85)
4. Rukajarvi, Enni (676.14)
5. Marino, Julia (635.32)
Advertisement