Dom Harington Interview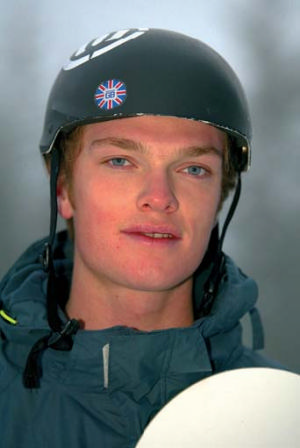 1- Which event are you aiming to compete in?
Im hopefully going to qualify for the halfpipe event

2- What's your ambition for this Olympics?
My aim is just to qualify! no other male from greatbritain has done so before so it would be wicked just to go

3- Do you think there's enough help given in this country for people trying
to compete in the Olympics?
There is no financial support from the country so that makes it hard to get to all the qualifing comps but luckily my sponsors help me out.
4- What's your favourite resort and why?
It really depends on the snow because all resorts change depending on the conditions. But having said that I think Laax in switzerland is amazing. Its  a huge area, loads of off piste and a sick pipe and park. Its also got a good freindly local scene. The only problem is that everything in switzerland is really expensive

5- What tunes are you listening to these days?
The last records I bought was the beastie boys album and the new chemical brothers album. But mostly listening to hip hop
6- What do you want to do when you finish competing?
I would really like to be able to make a good video part. I think that it would take a long time for me to film a part because I keep falling! but it would be something satisfying to do.

7- Who do you thinks pushing the boundaries of our sport today and why?
Its definately travis rice and romain de marchi who are pushing this sport because they are hitting up propper evil kanevil style gaps. But Ive also seen pictures of various Finnish kids who are hitting some crazy street rails that wouldnt have been thought possible a few years ago.

8- What's your biggest interest outside the sport?
I am quite into DJing. I like hip hop and am into cutting up stuff and scratching. Dont play out that often but enjoy it when I do
9- Ever owned an all in one ski suit, and if yes, what colour was it? Yes, my brother got me one as a joke this christmas but i was stoked. Its bright blue and yellow, really tight and looks rad. i think il start wearing it a lot more, maybe to the pub this saturday

10- Which football team do you support?
Leeds United

11- When did you know you wanted to be a professional snowboarder? When I was 16 I left school because the only thing I wanted to do was snowboard. I wouldn't count myself as a pro yet though!

12- Ever been caught in an Avalanche, if yes what happened?
No Ive been lucky. Toutch wood!

13- Where's your favourite Terrain Park and why? The best Ive ridden was in Mammoth, california. It was amazing being able to hit two rails,three kickers and a sick pipe all in one run, and then there is a super fast lift so you get to do that loads of times a day.

14- Have you ever been drug tested and do you think there's drug abuse in
the sport? (Steroids not hash!)
Ive never been drug tested but the fis does do random testing. I dont think taking steroids is going to make you better at snowboarding anyway! I dont know any snowboarders who take drugs to improve their riding.
15- What's the highlight of your snowboard career so far?
The highlight is when you have one of those days riding and you land loads of tricks youve been wanting to learn for ages

16- What's your favourite book?
Inferno by Praticia melo

17- When, where, and why was the last time you fell off a drag lift? Ha ha. I do that quite a lot. I fell off the t bar at sheffield the other week because I was carrying a burger and chips to the top of the slope and was trying to eat and was not looking where I was going!

18- What's your favourite snowboard DVD?
At the moment its pop cos it unbelievable what they do in that movie. But my favourite snowboard film is probably simple pleasures.
19- What was your take on the Canadian Ross Rebagliati, who had his gold
taken away and then reinstated when testing positive for cannabis at the
Nagano Games?
Im glad he got the medal back. Its not like he cheated by smoking weed.

20- What's your favourite film?
Happy gilmore


21- Where was the best Powder descent you've ever had?
This febuary I was resting my heal in leeds. I went to sheffield to visit my mate and in the morning it had dumped! We drove up to the highest point in sheffield and i had a few sick powder lines, no joke!

22- Please write a short profile of yourself
My name is Dom Harington, I come from leeds, am 20 years old. I enjoy a bit of the old snowboarding now and again and am sponsored by Animal, 32, Rome, Etnies and grenade.
Im regular footed, quite wide stance +18, -6, 6 foot 1 and about 75kgs