Lesley McKenna Interview
1-Which event are you aiming to compete in?
I am going to compete in the ladies half pipe
2- What's your ambition for this Olympics?
I hope to get a top 8 result.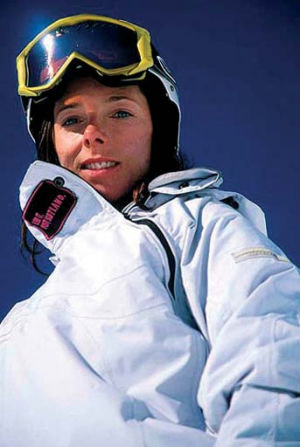 3- Do you think there's enough help given in this country for people trying to compete in the Olympics?
I think that the help given by UK sport for top athletes is great right now. There does need to be more help lower down the performance pyramid though.
4- What's your favourite resort and why?
St Foy in France because it is quiet and has some really good free ride terrain. It is also very friendly and helpful.
5- What tunes are you listening to these days?
Chemical Brothers, James Blunt, Supergrass, Foo Fighters, Gorillas.
6- What do you want to do when you finish competing?
I would like to stay involved in the film side of things with chunkyknit productions and do some free riding. Maybe go to Alaska.
7- Who do you thinks pushing the boundaries of our sport today and why?
Torah Bright and Gretchen Bleiler and Kelly Clark and Hannah Teter in the pipe, Kjersti Buaas, Cheryl Maas and Jenny Jones outside it. They all love to learn new tricks and have a lot of fun doing so.
8- What's your biggest interest outside the sport?
Alternative medicine.
9- Ever owned an all in one ski suit, and if yes, what colour was it?
Yes, I used to ski race and I owner quite a few race suits overt the years. My favourite one was bright yellow.
10- Which football team do you support?
Inverness Caledonian....
11- When did you know you wanted to be a professional snowboarder?
Not until I was 21. I didn't really start snowboarding until I was 20 years old.
12- Ever been caught in an Avalanche, if yes what happened?
I saw Jenny Jones set off a pretty big avelanche this year when we were filming. She was lucky that she did not get caught in it and I was lucky that I was watching it. You can see it in the film Transfer at the end. It stars in the slam section.
13- Where's your favourite Terrain Park and why?
I really like Breckinridege. It has great kickers and a brilliant pipe too.
14- Have you ever been drug tested and do you think there's drug abuse in the sport? (Steroids not hash!)
I have been tested a few times and I really do not think that there is a problem with performance enhancing drugs in snowboarding.
15- What's the highlight of your snowboard career so far?
The first World Cup I ever won is still my most memorable competition. That was in Japan in 2003.
16- What's your favourite book?
I read a lot and find it hard to pick a favourite. Right now I am reading "The troublesome offspring of Cardinal Gauzeman" by Louis De Berniers and it is pretty good.
17- When, where, and why was the last time you fell off a drag lift?
I can't actually remember the last time I fell off a drag lift but I do do it now and again. Usually when I am day dreaming about what trick I am going to pull next.
18- What's your favourite snowboard DVD?
Transfer. Or Saturation.
19- What was your take on the Canadian Ross Rebagliati, who had his gold taken away and then reinstated when testing positive for cannabis at the Nagano Games?
I thought that in the end the media used the case to pigeon hole snowboarders as being pot smoking drop outs.
20- What's your favourite film?
The Big Blue.
21- Where was the best Powder descent you've ever had?
At the back of St Foy last season. It was amazing.
22- Please write a short profile of yourself

Check out my web site www.lesleymckenna.co.uk