Knowledge

Freeriding

Heliboarding
Heliboarding
You hit the deck as the "thud thud thud" turns into a continual motorized drone. You look at the floor as a wall of powder, projected by the blades, envelopes you finding its way down your back and onto any uncovered skin. A short stooped run, and the next thing you know the floors dropping away and you're heading for virgin powder and the ride of your life. Heliboarding is untouchable, it's the ultimate. Some think it's just for the rich and famous. It's not, you don't have to be famous.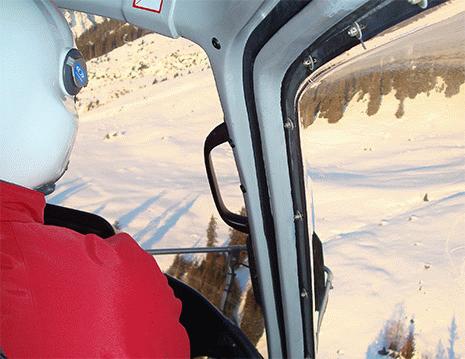 Imagine it: "Oh Mr Pilot can you drop me on the top of that, I'm just going to ride that virgin snow, and then if you wouldn't mind you could pick me and my friends up at the bottom and take us straight back to the top of that peak over there."

Having the use of a helicopter for a day or better a week, is the dream of any self-respecting boarder. Costs can vary from plain criminal to "you're having a laugh". Although it costs a lot of money, if you can wrangle a deal it may be the best money you ever spent. Instead of falling for all the marketing hype of needing the latest kit each season, blow the cash on a helicopter. Just don't buy a new board or the latest jacket, keep the old one and instead have a day you'll be bragging about years.
In Europe you have a few winter options; Switzerland has a healthy policy to heliboarding. Most of the larger resorts allow you access to the back country without you having to breaking into a sweat, other than when you hand over the cash that is. You can also Heliboard in Spain, Georgia, Turkey or pretty much anywhere there's a mountain with snow on it if you've got the cash you can board it.

If you want to heliboard in Europe's summer then you have to head for the Central Asia or the southern Hemisphere. The US and Canada have some amazing possibilities: Fernie, Red Mountain and Whistler in Canada, Colorado in USA and the big boy Alaska, and that's just to name a few. The main difference between Europe and North America is that in Europe it's normally day hire or even ½ day. In North America it's predominantly sold as a week long package, including being airlifted in to a back country lodge and flying around the area for a week before being flown back to civilization, with a granted number of vertical feet boarded, but this is not always the case. Some places will offer day trips as well as week long trips that cost thousands of dollars.

The most important things to find out are safety record and guaranteed vertical decent meters. If they don't want to discuss it, spend your cash elsewhere. Insure they insist that everyone has a transceiver and shovel and knows how to use them. Also find out what their money back policy is for bad weather days and ask if the guide will be boarding or skiing. Being the only boarder on a drop will not necessarily lead to a bad day, but it would be better to be in a group of boarders. Ensuring the guide is a boarder will guarantee you're taken to suitable terrain.