Knowledge

Summer riding guide

Canada
Canada Summer Guide
Blackcomb

Glacier

Blackcomb and its neighbour, Whistler, are located on the west coast just north of Vancouver. You don't have to be on a camp to ride here during the main summer months, but you may not be allowed in the pipe or park if you are not.

112 acres of terrain are only open for a month in the summer from June 18th until July 24th, from 12pm to 3pm and serviced by 2 T-bars. It takes 45 minutes from the base of Blackcomb to get to the glacier, involving 3 chairs and a bus and the first ascent is at 11am. Once there you'll find the terrain park has between 4-6 rails/jibs, 2 spine jumps and a halfpipe. Tickets are $56CDN per day.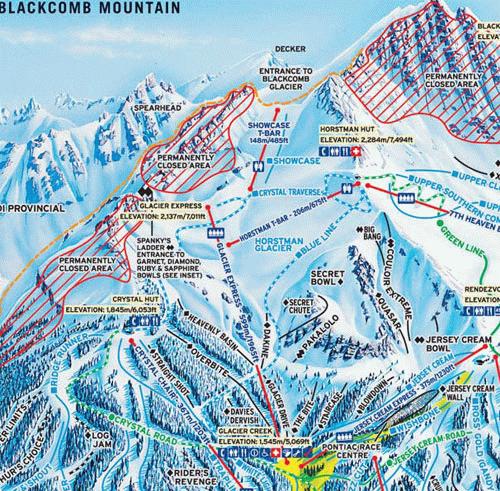 Summer Camps
In addition to the facilities offered by the resort, there are a number of specialist Summer Camps with access to their own private terrain parks & pipes. Prices start from $600CDN a week including tuition, but most cost much more. Loads of summer snowboard camps are held for kids, so if you've got some cash and want your kid getting gold in the Olympics then send them along! www.campofchampions.com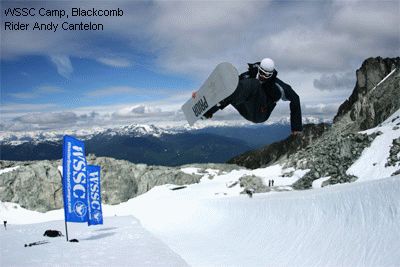 WSSC Camp, BlackcombWSSC run fully inclusive summer camps on their own private park & pipe on the glacier. $1095CDN will get you 5 days coaching, 4 nights in a hotel, all meals and some goodies, they also run a 8 day camp for $2095CDN where you get 6 days coaching/boarding. Camps run from 19th June to the end of 10th July.
Visit www.whistlersnowboardcamps.com for more info
If you're a big person, take a look at www.glaciersnowboardcamp.com Glacier Camps have been running week long courses out of Whistler since 1996. Based around a private half pipe, cut by the new 17-foot super dragon, they offer camps with small group sizes no more then 5 campers to 1 instructor, with a maximum of 40 campers a week. They also offer a snowboard park with jumps, hips, and a variety of rails, as well as the natural free riding around Blackcomb glacier and daily video analysis. There are 5 sessions in June and July and a session costs £650 lasting a week, with a rest day in the middle.