Knowledge

Summer riding guide

France
France Summer Guide
Les
Deux

Alps

Probably the best known and considered by many the best European summer riding resort, the high glacier allows for some fine summer riding in T-shirts, and you can reach the board area from the middle of the town in a cable car. It has become a victim of its own success mind, so unless you like snaking queues you should expect to do some waiting.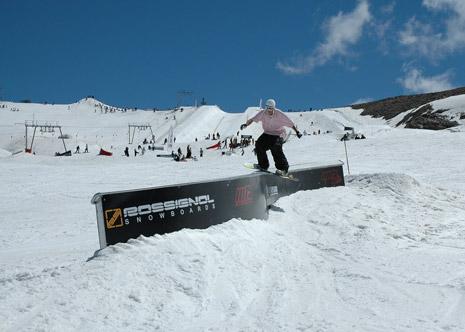 Without a shadow of a doubt the park set up here in the summer is as good as it gets. This season they are building a whopping 140m superpipe with 6.5m high walls and for regular mortals there is a smaller halfpipe next to it. They've added a new tow lift to service just this area.
The terrain park is split up into a few different areas but all located next to each other. The expert and boardercross area is serviced by its own t-bar, and the regular shred zone park by the main t-bar. All in all you are looking at around 70 or so different features and all kept in top condition, which even pushing closing time don't get too slushy and messed up that it becomes too slow to hit.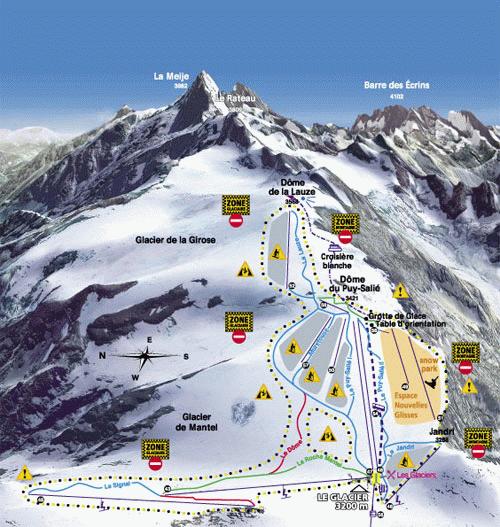 The main t-bar that services the park does get pretty ridiculous with queues and people pushing in, and when you finally get the tow up, just as you hit the brow where the park starts you get a few hitchers joining you on your accent. Keep your cool and you'll be fine or get those elbows out if this thing annoys you.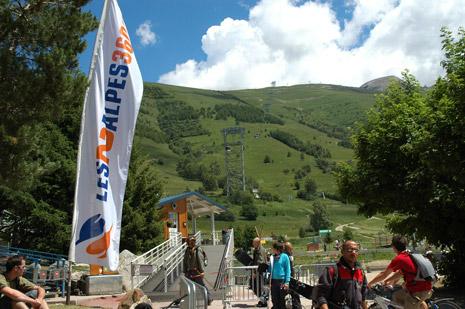 Open from 13th June to 29th August 2009 from 7:00am to 12:30pm, there are 300 acres open, including 11 runs and 11 lifts to get you around. Tickets are 32.50euros per day and a 6-day pass is 162.50. The town is also full of off-hill sporting activities and has a pretty kicking night life for a summer area.
Summer camps
Maverix snow camps are a new kid on the block and set up by UK boarder James Streater. They kick off on 13th-20th June on an accommodation & lift pass only basis from £329 and then step up for a full coaching weeks from 20th June until 4TH July which start from £454 depending on the sort of accommodation you're after. If you can make the summer, then they also run various courses in the UK fridges. Visit www.maverix.org for more information.
GirlieCamps – funnily enough designed and run especially for female riders. You'll find it a cool mix of riders looking to learn or improve their freestyle in a very unintimidating atmosphere. Most of the group is usually made up of individuals rather than groups of people who know each other, but by the end of the week its one big happy family. They run a number of other activities in the afternoon at extra cost or you can just chill.
There are 2 sessions this season from 27th June to 4th July and 4th July- 11th July. For 740 euros for the week you get your accommodation, 5 days coaching, 6-day lift pass, video analysis.
Visit www.girliecamps.com for more information
Kommunity summer camps is part of the highly respected McNab school and run a freestyle summer camps 18th-25th July. Prices are £720 for the week or £510 if it's just tuition & lift pass. You'll get taught by some leading British pro boarders for more info check out: www.kommunity.com
Da Camp is a Rip Curl sponsored camp and runs from 27th June until 28th August with each week featuring a different slant. You can expect to pay between 450 and 646 euros a week depending on the week, but each course includes your lift pass, coaching and accommodation. Take a look at their website for more details - www.2alpescamp.com
Demonium have 2 camps this season. The Axis camps runs on 4th-11th July, and the Burton camp 11th-25th July. Prices start from 350 Euros for the week up to 660euros and all include accommodation and lift pass. Visit www.demonium-mc.com for more information
Tignes
Tignes is one of the major snowboard resorts in France, and has long been hosting national and international events. Tignes lies at 2,100m, and is without doubt, the best summer snowboard destination in France and a match for any of the top glacier resorts of Austria and Switzerland.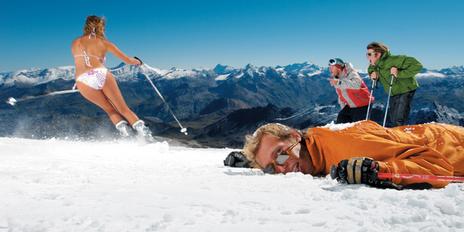 Access to the glacier area is from 20th June to 30th August and is accessed by taking the underground funicular train located at Val Claret. In the summer, the glacier is home to an area of 130 hectares, 20km of pistes with 750m of vertical. A day lift pass will set you back 31euros and a 6-day pass 154 euros.
The Snowpark in the summer is being geared more towards the beginner & intermediate freestyler, and features a number of kickers and boxes. The halfpipe is no longer there in the summer.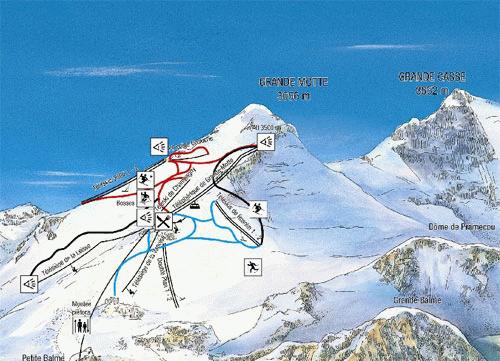 The area is open from June 20th until 30th August
Summer camps
Summer Camp Snocool is now in its eighth year and offers freestyle coaching along with many other balance based sports. There are filmed sessions everyday with viewing at night. There's a Burton test centre and an occasional visit from a big name French Pro rider. Prices range from 220 euros for instruction only to 599 euros for a week long package, accommodation is in the great Dragon lodge. www.snocool.com
Globalfreestyleski run week long camps from 23rd June until 11th August with prices from 355 euros, www.globalfreestyleski.com
Val d'Isère
Val d'Isère went against the grain and reopened for summer snowboarding a few years ago on the Pissaillas Glacier.
The resort installed a number of snow cannons for the 2006 season high up on the glacier, and have now re-introduced summer boarding. Its not the easiest glacier to get to, you'll need to drive to the glacier from town or take a bus from Le Fornet.
Its open from June 27th to July 26th, 2008 and a day pass costs 25 euros