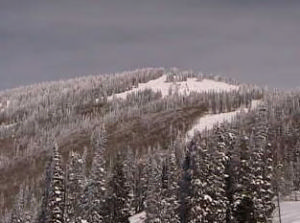 Steamboat crossed the 100-inch mark for it's top-of-mountain base snow depth. The resort hit the 103-inch settled base mark at the summit for the first time since January 11, 1997. So far, 2005/2006 is the third snowiest year to date on record in the past 27 years.
"The 100-inch base level is a really great mile marker to race right by in early February, a point augmented when you consider that this is coming at a time in the year where we're only half way through the winter season." said Andy Wirth, Vice President of Sales & Marketing for Steamboat Ski & Resort Corporation. "The snow just keeps coming and even the hard-core powder hounds here in Steamboat are getting worn out by the seemingly non stop series of epic powder days." Steamboat has received over 95 inches in January alone, making it Steamboat's snowiest January in the past six years.
As of 5 a.m. this morning, three inches has fallen overnight at mid-mountain and four inches at the summit in a 24-hour period.
In the past seven days, 30 inches (2.5 feet) has fallen at mid-mountain and 39 inches (3.3 feet) at the summit. For the month of January, 95 inches (7.92 feet) fell at mid-mountain and 107 inches (8.97 feet) at the summit. Forecasts are calling for snow throughout the upcoming weekend.
STEAMBOAT SNOW REPORT (5 am): 02/04/06

New Snow last 24 hrs at mid-mountain:      9"
New Snow last 24 hrs at the summit:        10" 
New Snow last 48 hrs at mid-mountain:      12"
New Snow last 72 hrs at mid-mountain:      17"
Settled Snow Depth Base at mid-mountain:  79"
Settled Snow Depth Base at the summit:    103"
Cumulative: 320" 
Winds:   W @ 4mph
Degrees:  17
Skies:  overcast
Lifts Operating: 18
Trails Open: 164
Surface Conditions: Powder
Skiable Acres: 2,965