With the qualification period over the Protest Jib-Vid is ready to go in under 2 weeks in the Tignes snowpark (www.tignes.net) on the 22nd – 23rd March.

Teams from France, Holland, Belgium, and the UK will be competing for the title and going by the qualification videos seen so far it's going to be a hard fight. Last years winners, Lockdown Projects, are coming back to defend their title with good confidence after winning Red Bull's "A Day in the City" skate film comp and 2nd place last week in the Red Bull Hike and Ride in Switzerland.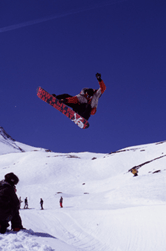 Also challenging will be the French production Audience 33 comprising of Mati Imbert, Olivier Grauff and Aluain Riccardi, and from the UK, the Hungerpain crew, James Thorne, Mark Ruperelia and Chris Chatt who are making their way over from Austria for the contest. For a full rider listing check out the website, www.jib-vid.com

Anyone looking to head out to Tignes for the week get in touch with Clare at www.tignes.co.uk who is sorting out all the accommodation. The friendly chaps at Spy Optic (www.spyoptic.com) have sorted us out with some goggles for the public vote award during the projection to make sure everyone gets there say in the goings on. In addition to this, The Snowboard Asylum (www.thesnowboardasylum.com), has come onboard with some free snowboards which will be given out for the best trick in the snowpark on Thursday afternoon along with a couple more up for grabs in the Jib-Vid raffle.
The competition schedule is as follows:
Saturday/Sunday – arrival/free day

Monday – free day.

10pm Couloir Bar - Reggae DJ

Tuesday – free day.

8pm Couloir Bar - riders meeting

10pm Couloir Bar - live band (Blue Funk)

Wednesday 22nd – 10am Tignes Snowpark - contest briefing

Free BBQ in snowpark

10pm Couloir Bar - DJ Danny Delta introducing Square 1

Thursday 23rd – 10am Tignes snowpark open

Midday – all films to be handed in at the Tignes Snowpark

Free BBQ in Snowpark

Afternoon – Best Trick contest with prizes

6.30pm – Couloir Bar - Rider Dinner

8pm – Melting Pot, doors open

9pm – Melting Pot - Film projection and judging starts

11pm – 4am – Melting Pot,

Duracell, Square 1 and DJ Funky Salad providing the beats.