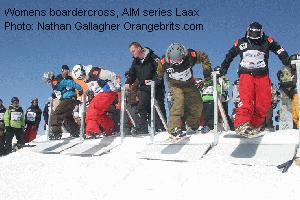 After 4 weeks of constant snow, the gods smiled, the sun blazed and The Orange British Snowboard and Freestyle Ski Championships 2006 got underway. As snowboarders, skiers, Olympic GB members and the media descended upon the stunning resort of Laax, Switzerland the atmosphere was high-spirited and contagious. A spectacular start for a spectacular event saw first day competitor entries up 40% from the previous year. Growing in size, stature and adrenaline highs, the Orange Brits is raising the bar and setting the standard.
Boardercross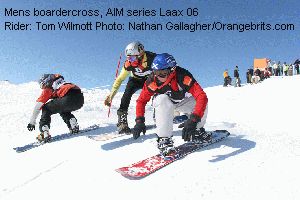 The Boardercross kicked off the snowboard competition with record numbers donning helmets to go head to head down a technical course of banked turns and jumps in heats of four. Last year's top three made it into the final and after a close run, Tom Willmott, the New Zealand team coach who had set the pace for the whole competition throughout his heats, snatched the crown and glory from last year's winner and GB World team member James Foster who came in second. 2004 Boardercross champion Steve Trolland kept his cool to take third, seeing off James Thorn who obviously couldn't take the heat and had to strip down to thermals.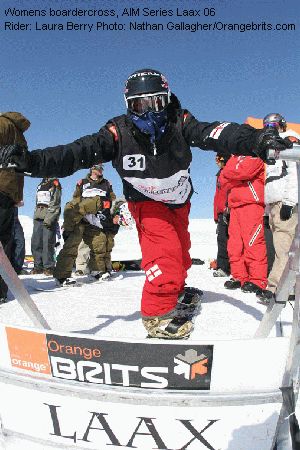 The women's competition was possibly tenser. Into the final last year's Boardercross champion Laura Berry was squeezed out, back into fourth place at the first corner. Bournemouth's Sonia Shaw led the race and looked to have it in the bag until the final turn when the charged Laura Berry, who by this point had chased through the pack, managed to take the edge and the 2006 Boardercross title. That's determination for you. Vicki Miller took third.
Results:
Mens
1. Tom Willmott , Shrewsbury
2. James Foster, Chuckfield
3. Steve Trolland, Scotland

Womens
1. Laura Berry, Milton Keynes
2. Sonia Shaw, Bournemouth
3. Vicki Miller