More sun than the sunshine state and day two did not disappoint. The day of the Snowboard Halfpipe meant that the big guns were out in force, Dan Wakeham and Lesley McKenna were ready, willing and able to put on a show. Competitor numbers were up again and an amped atmosphere continued.
Halfpipe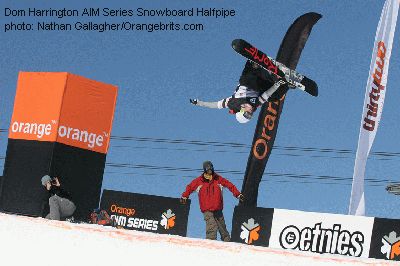 Second day of the Championships and the much anticipated Snowboard Halfpipe aka "The Dan & Dom Show" pulled in the crowds and the competitors, no one wanted to call between the Olympian Dan Wakeham and last year's Orange BRITS halfpipe champion Dom Harington, and so the fight for the 2006 title commenced. Dan Wakeham's first hit in the pipe saw the highest rotation of the competition, then leading into the huge frontside 900 into a backside tail grab, frontside 720 and finished with a Haakon flip looked to have done enough to take first prize. But Dom Harington's faultless technical run consisting of a frontside 720 into a Haakon flip followed by the biggest straight air of the competition was finished with a backside 540. The super stylish run had done enough to take the extra points and retain the title. Dan Wakeham finished second whilst the young Ben Kilner, 17, fought off strong competition to take third with a frontside 720 to cab frontside 720 in another big run.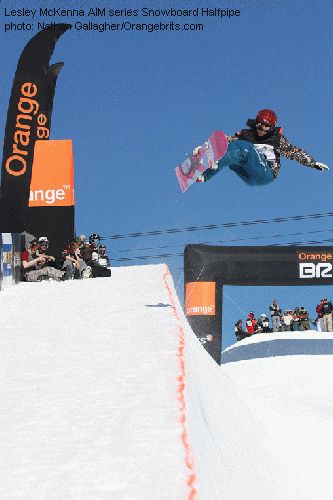 When you hear from Olympic GB team members that this is one of the biggest pipes they have ever ridden, the expectations are set for some huge action. In the woman's Snowboard Halfpipe tipped favourite, Lesley McKenna, showed true form to take the title and set the standard with a frontside 720 to cab 360 and huge method grab. Orange Team Captain Jenny Jones took second with a solid run including a frontside 360 and frontside 540. Yesterday's Boardercross runner-up Vicki Miller, took another great third place with big frontside airs and a frontside 360.
Results:
Mens
1. Dom Harington, Leeds
2. Dan Wakeham, Plymouth
3. Ben Kilner, Aberdeen
Womens
1. Lesley McKenna, Aviemore
2. Jenny Jones, Bristol
3. Vicki Miller, Hertfordshire