Last day of the Orange BRITS, skies were initially overcast, but as the radio crackles, and a voice permeates to inform that the skies above are clear where the course is, all are ready for some serious Freestyle Ski Halfpipe and Snowboard Slopestyle action.
Slopestyle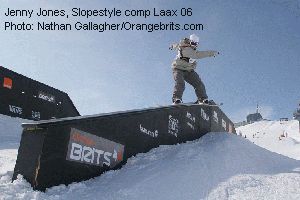 This event is all about style, skill and tenacity. Rolling all of that into clean lines and landings on the downhill assault course, the competitors were faced with a choice of lines consisting of 8 – 15m size kickers, rails, boxes and an 8m wall ride. Jenny Jones was clearly out in front. After spinning 540's with ease, both normal and switch off the biggest kickers, Jenny continued her technical run with a stylish tailslide to fakie over the flat box and a smooth 50:50 noseslide over the A-Frame box to check in first. In second, came Vikki Miller, whose strong riding has impressed this week and her Slopestyle appearance continued her notable form. She pulled off a cab 540, 50:50 to frontside 180 off the flat box and a really solid noseslide on the kinked box which the judges commented as top notch. She is a force to be reckoned with and has huge future potential on the British snowboarding scene. The only junior through to the Final was Laura Berry, proving her worth alongside the seniors as she firmly produced a frontside tailpress off the flat box and tamed the 8m wall ride Again, a future star internationally, having made big impressions as a British contingent and Orange BRITS regular.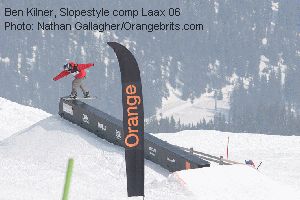 In the men's final Nate Kern, making his debut at this year's event pocketed his second championship title of the week, after taking home first in the Big Air discipline yesterday. Proving better on the day, Nate executed a high class technical run of a switch backside 720, a switch 900 and gap to wall ride to finish. The photogenic Tyler Chorlton picked up second with a solid run consisting of a backside 900 and switch backside 720 over the jumps to gap the wall ride face. Slopestyle wizard and last years champ, Scott McMorris came in a close third after cleanly landing a switch 540, a huge backside 720 and a 270 rotation on and off the flat box. All in all, the top three made points distinction pretty hard for the judges and raised the bar further in favour of British snowboarding standards. Like Laura Berry, fellow youth Sam Cullum, did the junior category proud, only just missing to place fourth.
Results
Mens
1. Nate Kern, East Sussex
2. Tyler Chorlton, Brighton/Andorra
3. Scott McMorris, Edinburgh

Women's
1. Jenny Jones, Bristol
2. Vikki Miller, Herts
3. Laura Berry, Milton Keynes