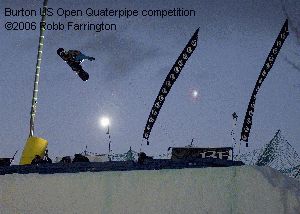 U.S. riders Danny Davis and Hana Beaman are the winners of last nights Burton US Open quarterpipe contest, each taking home $10,000, a Motorola cell phone and a Nintendo Red Mario Kart DS Bundle. Finnish rider Risto Matilla and Japanese rider Junko Asazuma came in second, each winning $5,000 and a Motorola cell phone. And U.S. riders Kevin Pearce and Molly Aguirre took the third spot on the podium each winning $2,500 and a Motorola cell phone.

Several thousand fans braved cold temperatures to watch the riders go for broke on the first quarterpipe at the US Open since 2002. Danny Davis stoked out the judges and the crowd with his wide variety of tricks, including an alley-oop backside rodeo 5, a frontside 9 tailgrab and an air to fakie. Hana stomped the best McTwist of all the ladies, scoring the top spot on the podium.

"The US Open is super fun, especially because it kind of feels like home since I go to Stratton Mountain School," says Danny Davis. "All my family is here, so this event is a great way to end the season."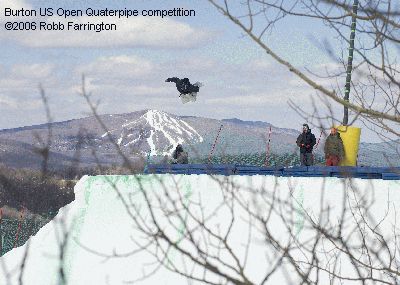 Hana was also super stoked about her win. "There were two events I really wanted to do well at this season – the X Games and the US Open," says Hana. "I'm so glad they brought back the quarterpipe and I'm really happy about how tonight worked out. Maybe I'll even enter the halfpipe contest tomorrow and try to go for the Volvo."

In addition to taking home second place, Junko Asazuma raked in extra prize money with her huge backside air, earning a $1,000 SoBe Sick Trick and the $2,500 Highest Air award. Other $1,000 SoBe Sick Trick winners include Hana Beaman, Danny Davis, Torah Bright, Tyler Emond and Risto Matilla.

After the quarterpipe, the crowd stuck around for a live CKY concert on the MySpace concert stage.
For more information visit www.usopen-snowboarding.com/usopen06