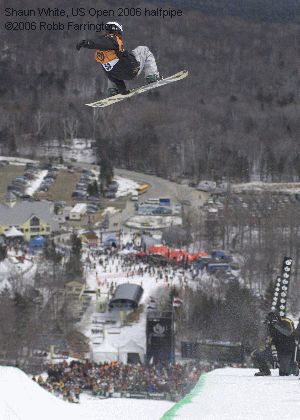 U.S. Riders Swept Both Men's and Women's Halfpipe Contests at Snowboarding's Most Prestigious Event

Olympic gold medalist Shaun White won his first US Open halfpipe title today in front of the largest crowd in the event's 24-year history. Danny Davis followed him in second place and also won the $5,000 Nintendo DS Best Trick award for his frontside inverted 10. 2006 Olympic finalist Mason Aguirre took the third spot on the podium. In the women's contest, Torah Bright also won her first US Open halfpipe title, with Olympic silver medalist Gretchen Bleiler taking second and Elena Hight taking third.

Shaun won the contest with his first run, which easily topped his gold medal performance at last month's Winter Games in Torino.
Starting with a super smooth frontside 5, into a backside 9, frontside 10, Cab 10 topping it off with a frontside 9, Shaun's skills surpassed the expectations of the crowd of 15,000 people watching alongside the 22-foot pipe.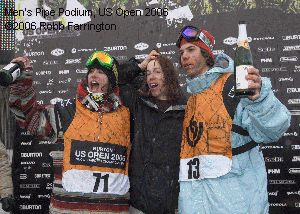 Even though Shaun's run was a display of snowboarding perfection, at the bottom of the pipe he said with a huge smile, "I can do better."
Not only was this the first time Shaun has won the US Open halfpipe contest, it was also his eleventh consecutive victory at a snowboard event. Shaun had this to say about his remarkable season, "I can't believe what an insane year it's been for me. I've never even made it to the finals at the US Open. High-five for Jake."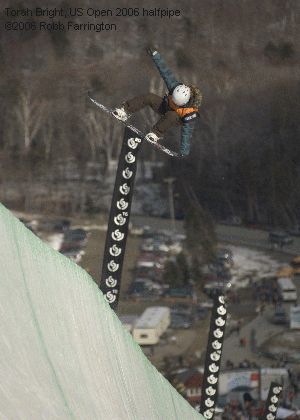 Torah earned the top spot on the women's podium with an air to fakie, Cab 7, frontside air, backside 3 ending with a switch backside 5. Torah's switch backside 5 also scored her the $5000 Nintendo DS Best Trick award.

"The US Open has been around forever and is the most prestigious event," says Torah. "Winning it was a huge goal of mine and something I can now check off my 'things to do in my life' list.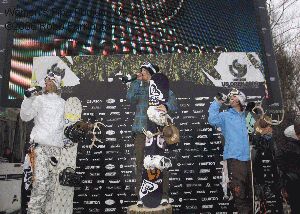 Besides a big fat $20,000 check, Shaun and Torah each won a Motorola cell phone and a Nintendo Red Mario Kart DS Bundle.

Later that evening the crowd celebrated the incredible competition with Hot Hot Heat and Narwhal live on the MySpace concert stage
For more information visit www.opensnowboarding.com