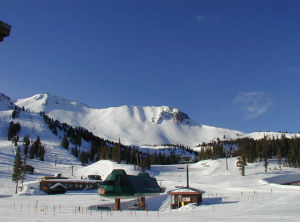 Mammoth Mountain Ski Area has begun construction on a new high-speed six-pack chairlift that will be ready to load skiers when the 2007/08 ski season kicks off in November. The "new Chair 9" is replacing Mammoth's legendary double-chair - a project that is costing $6.5 million.

The new Doppelmayr lift will whisk skiers from the Eagle Lodge side of the mountain to 10,371 feet near Dragon's Back in just over six minutes, providing access to hundreds of acres of intermediate and advanced terrain and cutting the ride time in half. Originally installed in 1969, the fixed-grip two-seat chair is famed for deep powder and runs like Dragon's Back and Ricochet. Chair 9 services the secluded and often uncrowded eastern slopes of Mammoth Mountain. The new lift will provide quick and efficient service, enable the lift to operate under more acute weather conditions and give more skiers the opportunity to enjoy some of the best terrain Mammoth has to offer.

"While we anticipate increased usage of the terrain around Chair 9, the chair upgrade will also provide more convenient access to the other side of the mountain," said Mammoth Mountain Chairman and CEO Rusty Gregory. "On busy days twenty-five percent of our skiers start their day at Eagle Lodge. We believe many intermediate and advanced skiers will use the new Chair 9 to move across the mountain quickly."

Winds can be strong as weather blows in over Mammoth's east side. The heavier six-passenger lift is being installed instead of a quad lift to allow it to operate in higher winds. The six-pack chair is heavier and more stable in the wind, so the Lift Operations team anticipates more full days of operation.