During the Oakley Style Masters / The Arctic Challenge, a bunch of the worlds best riders took the chance to see what is going on in the Chinese ski resorts. The Nivit Family took care of this meet and greets!
Yanguang Railparksession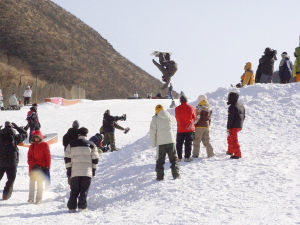 The fairytale-like, cheesy-romantic scenery of Yanguangs Railpark, was the first stop on Chinese slopes for Terje Haakonsen, Nicolas Mueller, Travis Rice, Peter Line, Luke Mitrani, Wille-Yli Luoma, Hampus Mosseson and their crowd of filmers, photographers and media people. Beijing TV and CCTV News covered this memorable visit on the 4th of February 2006.
The Railaprk is set up since the very beginning of 2006 winterseason. Responsible for the creation of this unique spot is no one less than Wang Lei.
Shijinglong Park Session
In the afternoon, a small selection of seven riders under the lead of Terje Haakonsen went off to the Shijinglong Snowpark.
Nico Ciriego and his Crew have given a lot of effort to show how the shape of a perfect park should be.
"One goal during the Oakley Style Masters was, to show the very best snowboarders from all over the world how developed the Chinese snowboard market is. The Yanguang Railpark and the Snowpark reflect this definitely in the most positive way!
Everyone involved in this was more than pleased. The task of organizing a come together between the local crowd and these stars was one of the greatest achievements during their stay." says Miriam Deller, responsible for Marketing and Team at Nivit International.
Nivit hosted all side events during the Oakley Style Masters / The Arctic Challenge:
The Welcome Party at the Bed on the 1st of February after the movie screening of "The Community Project", the Party at Badaling on the 4th of February and the Party at Club Tango on the 5th of February. All events were a huge success in bringing the foreign riders together with the Chinese scene, creating an inspiring environment for both sides.