Nicolas Mueller made it a night to remember for Swiss snowboarding at Saturday nights ONeill Evolution Quarterpipe finals in Davos. With the home crowd support behind him all day long, the 24-year-old had the thousands of spectators cheering his every move during the climax of this prestigious 6-star Ticket To Ride event.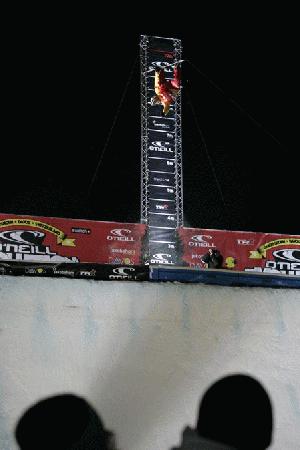 Returning to competition for the first time since a heavy fall at Decembers Nissan X-Trail in Tokyo, Mueller was straight back to his usual ways in his early evening semi-final heat. A true crowd favorite wherever he goes, the Swiss tweak-master entertained the crowds with powder slash in-runs and his trademark McTwist.
Other notable qualifiers included snowboarding legend Terje Haakonsen. Already crowned winner of the Swatch Highest Air Session in the Halfpipe on Friday afternoon, Haakonsen laid his claim to the Quarterpipe title this time by qualifying in 2nd position just ahead of Mueller with a last-minute backside air measuring in at a jaw-dropping 7.2m. The Norwegians incredible amplitude remained unbroken for the rest of the night, and saw him pick up his second Swatch Highest Air Session award in successive days. Newly-crowned Evolution Superpipe Champion Antti Autti was killing it in his semi-final heat with an insanely tweaked and inverted frontside 900. Antti underlined his semi-final dominance with the only 1080 of the night, at more than 4.5m out. Other highlights across the two semi-final heats included Travis Rice and his slow motion backside 720s, Arthur Longos 7m backside air and Scotty Lagos precision backside 900.   
Watching the semi-final heats from the sidelines following a minor injury to his wrist, Switzerlands style king Markus Keller was enjoying watching his fellow pro riders do their thing on the monstrous Quarterpipe: I didnt want to risk too much by riding tonight, but its nice just to watch all these guys shred! Rice is looking pretty good for the win right now, well just have to wait and see what happens.
The finals themselves were off the hook. With an amped crowd of spectators cheering them on, the 16 men took it in turns to point their boards down the in-run during a one hour jam session. Charging up the gigantic transition, riders were consistently boosting 6-7m airs. Mueller established an early lead with his classic McTwist and an intimidating 274 points out of 300, while US riders Scotty Lago and Travis Rice and Norways Henning Marthinsen had the crowd going wild with backside 720s and 9s. Crowned World Champion for the first time in Davos as far back as 1994, Terje Haakonsen was mixing things up with 7m straight airs and styled out McTwists. Meanwhile, Kevin Pearce upped the ante with an oversized McTwist of his own to claim tied 2nd place.
With only minutes to go until the end of the jam session, Antti Autti charged towards the transition before stomping a heavily inverted frontside 720 scoring him an impressive 265 points. The Finn was clearly in no mood to let Mueller walk away with the title, but the extra competition only seemed to motivate the Swiss rider further. With his top score still intact, Auttis rival pointed his board at the Quarterpipe and launched another McTwist of epic proportions. Measuring in at an unbelievable 5.5m, Muellers trick improved on his existing lead by scoring an astonishing 281 points. Moments later, the jam session was over and the title was in the bag for the locals favorite.
Grinning from ear to ear immediately after his win, the Swiss rider stated: Im so happy to win tonight! This Quarterpipe is one of the best Ive ever ridden. The most important thing is to be safe, and when its like this you can have so much fun! said Mueller.
The womens Quarterpipe finals, taking place shortly before the mens semi-finals, saw US rider and current TTR leader Jamie Anderson claiming top honors. Spread out over 45 minutes, it quickly became apparent that a handful of the 16 girls would be fighting it out for the top 3 spots.
As well as Anderson, other riders in contention included Austrias Lisa Filzmoser and Norways Kjersti Buaas. Boosting stylish backside airs more than 3m out, Buaas did enough to clinch 3rd place. Filzmoser, focused on taking home the Swatch Highest Air Session, did exactly that after launching more than 3.5m out with a stylishly-tweaked backside air. Impressed with the Austrians consistent amplitude and control, the judges also rewarded her with 2nd place. Head and shoulders above the competition on a technical level, however, was 16-year-old Anderson, whose perfectly grabbed and cleanly stomped McTwists earned her a well-deserved 1st place, cementing her position at the top of the TTR rankings.
Nicolas Mueller and Jamie Andersons victories in tonights Quarterpipe finals, as well as Auttis incredible display of freestyle riding in both Superpipe and Quarterpipe, capped what has been an extraordinary first edition of the ONeill Evolution. Moving into 1st place in the TTR ranking list after tonights results, the Finn has bumped Lago off the top spot in the ratings for the first time this season.
Summing things up on late on Saturday night, head judge Dani Kiwi Meier said it all: The TTR is a global tour, and after the first 3 6-star events, we find riders from the USA, Europe and even New Zealand in the top 10. Auttis performance over the last 5 days proves that to take a world-leading position during the tour, you need not only consistency and technical ability but also innovation and creativity. Today, the top 5 riders in the TTR ratings represent some of the most progressive riders that snowboarding has ever witnessed.
TTR Ranking List MENS post ONeill Evolution
1. Autti, Antti         FIN     672.68
2. Lago, Scotty         USA     613.11
3. Davis, Danny         USA     605.84
4. Rice, Travis         USA     598.39
5. Mueller, Nicolas     SUI     538.16
TTR Ranking List WOMENS post ONeill Evolution
1. Anderson, Jamie      USA     763.10
2. Maas, Cheryl         NED     437.85
3. Candrian, Sina       SUI     417.14
4. Bray, Juliane                NZE     417.02
5. Buaas, Kjersti               NOR     387.81