$22 MILLION GONDOLA & HIGH SPEED QUAD CHAIRLIFT CONTRACT WITH LEITNER POMA CANADA INC AND ACQUISITION OF SELKIRK TANGIERS HELI SKIING WILL MAKE THE $1 BILLION REVELSTOKE MOUNTAIN RESORT A ONE-STOP HELI, CAT AND LIFT SKI DESTINATION

Today in the heart of Revelstoke (BC, Canada), in a major public announcement to the community, Revelstoke Mountain Resort announced a $22 million gondola and high speed quad chairlift contract with Leitner Poma Canada Inc. that will make Revelstoke Mountain Resort North Americas longest skiable vertical at 1,829 m (6,000 ft).

The Resort also announced the signing of a purchase agreement contract for a spring takeover of renowned local helicopter skiing operation, Selkirk Tangiers. The signing of these contracts, in combination with the Resorts acquisition of CAT Powder Skiing, will make Revelstoke Mountain Resort a one-stop destination for helicopter, snowcat and lift skiers from around the world.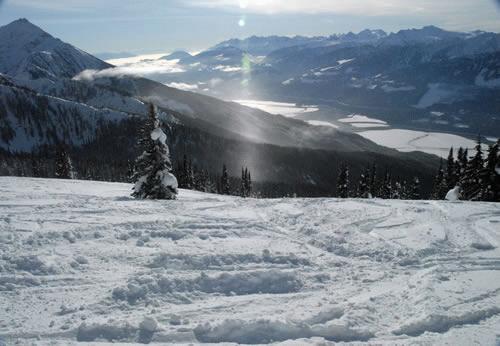 Revelstoke has been my favorite place to ski for years. This is the epicenter of world class helicopter and snowcat skiing, and now, with the signing of this contract with Poma and the upcoming contract with Selkirk Tangiers, Revelstoke Mountain Resort will be a world-class, one-of-a-kind ski resort. said Don Simpson, Chairman of Simpson Property Group Canada, Revelstoke Mountain Resorts developer, You will literally be able to get up in the morning and have the worlds greatest adventure playground at your doorstep, with helicopter, snowcat, and lift skiing all accessible from the village.

Over 1,000 enthusiastic community members attended the announcement and celebration in a show of support for this long-awaited $1 billion four-season resort located on the edge of the Selkirk Mountain Range. Politicians including His Worship Mark McKee, Mayor of Revelstoke; Norm Macdonald, MLA, Columbia River-Revelstoke; Kevin Krueger, MLA, Kamloops-North Thompson and Parliamentary Secretary for Rural Development; and the Honourable Larry Campbell, Senator, were in attendance, as well as community groups like the Revelstoke Ski Club.

We have been waiting for years for the dream of this resort to take shape and now its finally happening, said Mayor Mark McKee, This is a monumental day for all of us in Revelstoke and Im thrilled to be a part of it all.

The Revelstoke Mountain Resort development team also presented a $10,000 donation to the Canadian Avalanche Association and the Canadian Avalanche Centre, headquartered in Revelstoke, as well as a $5,000 donation to the Revelstoke Community Foundation, the official centennial legacy project of the community of Revelstoke.

The celebration event, emceed by former Canadian Womens Ski Team champion, Kendra (Kobelka) Wilson, was attended by over 150 local schoolchildren who were greeted with cookies and flags emblazoned with the brand new Revelstoke Mountain Resort logo. A family barbeque, sculptures by the Canadian Snow Sculpture Team as well as an audio visual display of Revelstoke ski history and lifestyle followed the announcement.

From all of us at Revelstoke Mountain Resort, we want to thank the community of Revelstoke for their patience and support, added Simpson, Revelstoke Mountain Resort is no longer a dream, it is now a reality.

Peter Schlunegger, current owner and operator of Selkirk Tangiers, explained that following Revelstoke Mountain Resorts spring takeover, the team of expert guides and professionals would remain the same and that Schlunegger would continue to assist the resort with the management of the heli-skiing operation.

The spring 2007 acquisition of Selkirk Tangiers Heli Skiing will mean that, in total, Revelstoke Mountain Resort will boast over 500,000 acres of skiable terrain.

With phase one of lift installations beginning spring 2007, the first 8-person gondola and high speed quad chairlift will be operational by fall 07/08 in time for the official opening of this proposed $1 billion resort.

The gondola will initially take skiers from the upper village to an elevation of 1700 m while the high speed quad chairlift will begin at 1595 m and rise to 2245 m. In 2008, the gondola will be extended, creating North Americas longest vertical descent with 1,829 m (6,000 ft) of lift serviced ski terrain.

Located just minutes from downtown Revelstoke, B.C. (population 8,500) and only hours from international gateway cities like Vancouver (631 km), Kelowna (199 km) and Calgary (413 km), the Revelstoke Mountain Resort area is already a popular local, national, and international ski getaway. Over 8,000 heli and cat skiers flock to the region annually to enjoy the 40 to 60 feet of annual snowfall (about four storeys high) and superb backcountry terrain.

In addition to offering world-class snowcat, helicopter, and lift skiing, Revelstoke Mountain Resort will also be a multi-phased resort community featuring a village heli-center, hotels, condominiums, town homes and single family lots. Over 5,000 homes are part of the long term plan for this sustainability-driven resort. A design and architectural team with years of resort planning expertise, including Perkins Design Associates and Ray Letkeman and Associates, master planned the Resort Village which will house commercial, retail, and residential space.

Through each stage of planning, Revelstoke Mountain Resort has engaged a team of industry leading experts including Enkon Environmental, SE Group, Integrated Design Studio Inc., Patty Xenos Design, Urban Systems, Skelton Design, and Holland Barrs Planning Group. As part of their effort to reduce environmental impact, this team has developed a comprehensive sustainability strategy that strives to reduce emissions, utilize green fuels and transportation, build green and energy efficient buildings, as well as support local businesses.

Real estate offerings in this master planned resort community are marketed exclusively by Sothebys International Realty Canada, a Vancouver-based luxury real estate firm whose Revelstoke Mountain Resort Presentation Centre opened today at 122 Mackenzie Avenue in downtown Revelstoke. The first release in Phase 1 of the resort will include 60 resort condos ranging in size from 450 square foot studios to 1500 square foot penthouses. The homes are expected to be released in spring 2007 and buyers can register for more information at www.discoverrevelstoke.com.